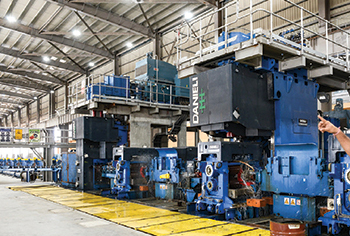 Oman plant boosts Jindal's global status
Jindal Shadeed Iron and Steel, which now produces large-diameter rebar, operates one of the best DRI plants in the world to produce hot briquetted iron and hot DRI.
August 2018
Oman-based Jindal Shadeed Iron and Steel – a wholly-owned subsidiary of Jindal Steel and Power Limited (JSPL) India under the leadership of chairman Naveen Jindal –continues to enhance its capabilities to serve the region's requirements for high quality steel through its state-of-the-art factory in the sultanate.
The facility, located in Sohar, launched the production of large-diameter rebar in January 2016, under its latest brand Jindal Panther Rebar.
Jindal Shadeed Iron and Steel's production facility, set up with an investment of more than $1.2 billion, is the largest integrated steel plant in Oman and the third largest of its kind in the Gulf region. Comprising a direct reduced iron (DRI) plant, steel melt shop and a rolling mill, it produces various high quality steel products conforming to global standards.
DRI plant
The company operates one of the best and most modern DRI plants in the world. The 1.5-million-tonnes-per-annum (mtpa) gas-based plant produces hot briquetted iron (HBI) and hot DRI (HDRI).
"The DRI furnace has been supplied by Midrex Technologies of the US and is the first of its kind to have hot direct charging technology through gravity feed," a company spokesman tells ABDULAZIZ KHATTAK of Gulf Construction.
This facility enables to charge the HDRI at temperatures of 600-650 deg C directly into an electric arc furnace (EAF) of the steel melt shop, he adds.
Its DR tower is one of the tallest among Midrex plants with a 148-m elevation and the third fastest DRI plant to have achieved 10 million tonnes, according to the spokesman.
Steel melt shop
The 2-mtpa steel melt shop was commissioned in 2014 in collaboration with Danieli of Italy within a record 27 months to produce square and round billets.
"This plant consists of state-of-the-art steel-making facilities with the best features in terms of product range and productivity. It comprises a 200-tonne EAF, which is the largest of its kind in the GCC, a 200-tonne ladle refining furnace (LF) and a 200-tonne vacuum de-gassing unit (VD).
"This is the largest vacuum degasser operating with a mechanical-type vacuum pump system and is the only plant in the GCC with vacuum degassing for long products," the spokesman points out.
These high quality and high productivity facilities enable the company to achieve extremely efficient operating results with low manpower and specific energy consumption, thereby making the plant highly competitive, he adds.
Jindal produces round as well as square billets ranging from 100 to 220 mm, square (up to 350 mm by 350 mm) and rectangular (up to 350 mm by 380 mm) blooms, and round sections from 180 mm to 406 mm.
Rebar mill
The latest addition to Jindal Shadeed's array of innovative facilities is the world's largest and most modern 1.4 mtpa rebar mill. The mill, set up in collaboration with Danieli, was commissioned in January 2016 to produce rebar as per all international standards to cater mainly to the domestic and Middle East market. The mill is highly automated with a maximum rolling speed of 45 m/sec for 8 mm bars and boasts the largest rolling capacity in Oman.
The mill recently began production of its latest brand, Jindal Panther Rebar, of high quality rebar, offered in diameters ranging from 8 to 40 mm, according to all international standards and grades.
"In June 2018 the mill recorded the best-ever single-day production of rebar the world over, achieving 131 per cent more production than the rated capacity and at 91 per cent of mill utilisation," the spokesman remarks.
Jindal Shadeed in Oman is committed to offering complete customer satisfaction with respect to quality, delivery and services. Its facilities have acquired global certifications like ISO 9001, ISO 14001, ISO 18001, UK Cares, DCL, Saso (Saudi Arabian Standards Organisation), and CEDD Hong Kong, the spokesman adds.
Jindal's products are used for various applications in the construction, oil and gas, and automotive sectors and sold in the GCC region as well as exported to Europe, South East Asia and Africa.
Jindal Shadeed Iron and Steel has won many awards including 'His Majesty Sultan Qaboos Award for Industrial Excellence – 2017-18 innovation category'; Frost & Sullivan's 2017 GCC Ferrous Company of The Year Award; and the Excellence in Steel Manufacturing award by Dossier Construction Infrastructure Awards & Summits 2017.
JSPL is one of India's major steel producers with a significant presence in sectors like mining, power generation and infrastructure. With an annual turnover of over $3.5 billion, JSPL is a part of the $18-billion diversified O P Jindal Group and is consistently tapping new opportunities by increasing production capacity, diversifying investments, and leveraging its core capabilities to venture into new businesses.
More Stories