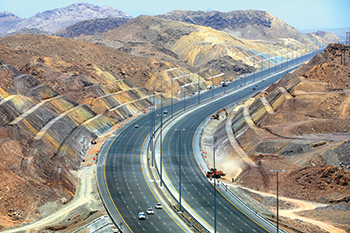 L&T makes significant inroads in Mideast
August 2018
Larsen & Toubro (L&T) of India has been leaving indelible marks on the GCC's projects scene ever since it won its first contract four decades ago.
The $18-billion technology, engineering, manufacturing and construction conglomerate has established a leadership position in the Middle East in the construction, infrastructure, hydrocarbon and power-transmission sectors.
Beginning with the first project it bagged from Abu Dhabi International Airport in the late 1980s, L&T's significant presence today spreads across the UAE, Saudi Arabia, Oman, Kuwait and Qatar.
According to D K Sen, whole time director and senior executive vice-president (Infrastructure), Larsen & Toubro, the company has the required resource base, technical know-how, in-house design and construction facilities and a large bandwidth of management staff. "Our strong back-office engineering support offers extremely cost-optimal solutions and a strong, global supply chain helps us source superior quality material at very competitive costs," he tells ABDULAZIZ KHATTAK of Gulf Construction.
"We have a strong track record of executing prestigious and challenging mega projects successfully and delivering on time," Sen adds.
From an infrastructure business standpoint, L&T executes jobs on an EPC (engineering, procurement, and construction) basis, lumpsum as well as on re-measurable basis in the areas of roads, airport infrastructure, metros, railways, elevated corridors, hydrocarbon, on-shore and offshore projects, in addition to the development of townships.
Projects portfolio
The list of mega projects executed by L&T in the Middle East is long and impressive. It includes Oman's Salalah Airport; a huge interchange and road project in the UAE; Riyadh Metro, one of the largest international orders bagged by L&T till date; Doha Metro and the Al Wakrah Road projects, both in Qatar; and Abu Dhabi Airport airside works.
Other noteworthy projects executed in the UAE include the middle bridges on the trunk at Palm Jumeirah Island in Dubai and the Khalifa Port Interchange in Abu Dhabi; and the Mahalah Ghubbrat Al Tam Ismaiyah road, and design and construction of underpasses and flyovers along Darsit Al Wadi Al Kabir Road in Oman.
Projects currently under way include the improvement of the Mafraq to Al Ghweifat Highway, Section 4A and three roads and interchange projects for Expo 2020 in the UAE; Batinah Expressway, Package Four and Al Sharqiyah Expressway Section Two, Package One in Oman; and the Doha Industrial Area, Package Six in Qatar.
Among its latest successes in the region, L&T won contracts to deliver mechanical, electrical and plumbing (MEP) services, structural work, architectural finishes and external development services for buildings and factories business, including a tourism-related facility in Oman.
In Saudi Arabia, significant L&T projects include 100- and 200-bed hospitals for the Ministry of Health, schools for the Ministry of Education, expansion of the Qassim Cement Plant, methanol plant for Chemanol, gas processing facilities for Saudi Aramco, and polyethylene trains for Sadara Chemical Company.
L&T is also executing various substation and transmission line projects for Saudi Electricity Company (SEC) and Saudi Aramco, normal paraffin and derivative complex for Farabi Petrochemicals at Yanbu, in addition to the development of the Hasbah offshore gas field and Midyan gas processing facilities.
In terms of sheer numbers, L&T has to its credit 2,118 km lanes of roads constructed, 55 km of metros, 33.4 km of tunnels and 1.45 million sq m of pavements for airports.
Furthermore, L&T's Power Transmission & Distribution (PT&D) business has completed the construction of 210 substations of various capacities across the GCC, with another 70 in the pipeline.
The PT&D has qualified for and executed gas insulated switchgear (GIS) of up to 400 kV capacity, installed over 4,400 km of transmission lines and more than 3,000 km of cabling for 25 reputed customers across the region.
Sen says this business vertical has, over the years, established a significant presence in the region and gained a substantial market share for executing EPC projects.
"As an organisation, we are committed to delivering our projects on time with superior safety and quality standards and remain focused on improving the efficiency of project delivery with an effective internal process control team," concludes Sen.
Back in its home country last month, L&T won orders in the South Indian state of Andhra Pradesh including a mega project for the tallest government office building in the country.
The EPC contract by the Andhra Pradesh Capital Region Development Authority (APCRDA) is for the Head of Department (HoD) office buildings at Amaravati, Andhra Pradesh.
The project will be the first steel diagrid building in India, and will be built using automatic climbing formwork system (ACFS) and diagrids.
More Stories