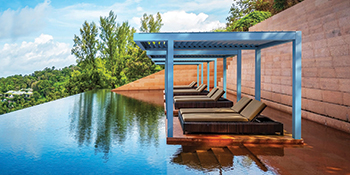 KE aims to enhance outdoor experience
August 2018
KE Outdoor Design of Italy, a specialist in the design and production of shading solutions that enhance the outdoor experience, has expanded its range of Gennius pergola systems with the new Kedry Prime, an aluminium louvre-blade shading structure that protects against sun rays, wind and humidity.
It can also provide protection from rainwater thanks to the new movable system that channels water to dedicated gutters, says a spokesman for the company.
Easy to install, Kedry Prime can be fitted in any outdoor landscape: the pergola system has a special roof with adjustable blades which allows minimum height overall dimensions and enhances the structure's linear design. Moreover, an integrated perimetral LED lighting kit (optional) offers a high level of customisation to meet customers' specific needs.
The structure can be closed with multiple door systems, designed as a protection to weathering. Due to the Vertika Gennius system, the pergola can be integrated with lateral and frontal drop-down awnings.
"Vertika Gennius offers an extensive variety of fabrics (transparent, filtering and darkening) to meet any lighting requirement. Once the roll-down awning is closed, it disappears entirely within the structure frame," the spokesman explains.
In addition, the structure can be internally decorated with decorative drapes or curtains.
According the spokesman, maximum comfort is ensured with the latest automation technology: smartphone and tablet apps allow the remote control of Kedry Prime, so customers can close or open the roof as per weather conditions.
KE has also recently launched its latest pergola awning, Isola 3, as part of the Gennius range. The complete solar-screen system perfectly combines elegance and design with flexibility and modularity, says the spokesman.
Isola 3 ehances comfort in outdoor spaces, expanding living environments and guests' areas in coffee bars, restaurants, hotels and shops. It stands out due to its characteristic lowered-arch shape which contributes in reducing minimum overall dimensions and in improving its aesthetics.
Wall-mounted and free-standing, it can be integrated with side shading screens, which can also be completely transparent, or with sliding glass doors.
"Isola 3 can be highly customised: it is possible to choose more than 500 different technical fabrics for the all-around closed version; the level of solar gain can be regulated depending on the specific needs of the building on which the product is to be installed, taking the stylistic coherence into account as well.
"For these reasons, Isola 3 uniquely complements the architecture of buildings, thanks to its essential lines and its aluminium powder-coated profiles, granting a perfect resistance against corrosion," the spokesman says.
Furthermore, Isola 3 can be integrated with optional rain and sun sensors, giving perfect automation and the ideal awning management, being easily adapted to every weather change, he adds.
KE has been designing and manufacturing awnings, canopies, pergolas and shades since 1987. Owing to its wide range of products and to the rich choice of configurations, KE is able to respond to the needs of the most demanding designers, architects, doors and windows installers, upholsterers and outdoor furnishing professionals.
Its range of sails include the Kheope and Kolibrie solutions which are designed to protect from the sun and to resist weathering and salt corrosion. In addition, thanks to their aesthetics, the range can be used to enhance any kind of outdoor space.
The shading range, with nautical fabrics and marine-derived technology, offers wide coverage dimensions, multiple installation systems and home automation elements.
According to the spokesman, the Kheope sail system stands out as a large shading sail and an innovative choice for sun protection. The stainless-steel structure and the nautical materials ensure great functionality and lightweight design.
Kheope's modern shading structure enhances open-air areas. Thanks to its sleek design, it easily adapts to different landscapes. Its polished steel and fabrics give flight to innovation while offering outstanding quality standards.
The Kheope model is motorised while an exclusive anemometer ensures automatic closure in case of strong winds.
Meanwhile, the stylish Kolibrie shading system offers versatility, elegance, practicality and quality. The model features only one offset support column in stainless-steel, capable of 360-degree rotation due to the pedestal bearings.
More Stories