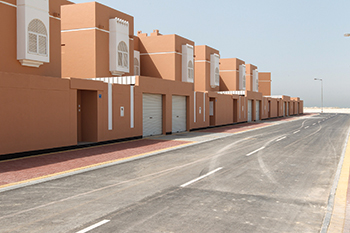 885 houses ready in East Hidd Town
August 2018
Preparations are in full swing to open the first phase of the East Hidd Town in Bahrain with the main construction work on 885 housing units having been completed, a report said.
"Work on the first phase known as Bu Shaheen Neighbourhood is nearing completion," said Housing Minister Basem bin Yacoub Al Hamer in a Bahrain News Agency (BNA) report.
Work on infrastructure at the site has reached 90 per cent completion so far, the report said.
"The rehabilitation of 498 land plots has also progressed tangibly reaching 88 per cent," said Al Hamer, adding that work to link the entrance of the first phase with the road network has so far reached 85 per cent.
The East Hidd Town is one of the key housing projects aimed at constructing 25,000 units under the Government Action Plan (GAP).
Meanwhile, the Housing Ministry last month distributed more than 900 housing units to beneficiaries in the Khalifa Town, including 400 ready ones. It also distributed the units of Al Lawzi housing project to beneficiaries. The move follows the order of HRH Prince Salman bin Hamad Al Khalifa, the Crown Prince, Deputy Supreme Commander and First Deputy Prime Minister, to distribute 5,000 housing units, under the recent directives of His Majesty King Hamad bin Isa Al Khalifa to meet the citizens' needs, reported the BNA.
The ministry highlighted its commitment to distributing the units ordered by HRH the Crown Prince before the end of August.
Once the distribution of the 5,000 units ordered by HRH Crown Prince is completed, the ministry will have reached the final stages of the provision of 25,000 units included in the Government Action Plan led by HRH Prime Minister Prince Khalifa bin Salman Al Khalifa, the report said.
Al Hamar explained that Al Lawzi and the Salman Town are among the projects covered by an agreement with Naseej Properties Company for constructing affordable and social housing on government-owned lands.
More Stories