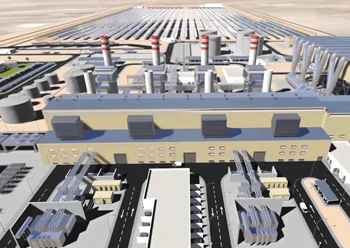 $998m power plant starts operations
August 2018
Saudi Electricity Company (SEC) has launched the operation of a combined cycle power plant at Waad Al Shamal mining city in the northern border region, said a report. The plant, costing over SR3.75 billion ($998 million), has a total capacity of 1,390 megawatt (MW) of electricity, of which 50 MW will come from a solar component, reported the Saudi Gazette.
The plant is a major boost to the kingdom's efforts on exploring renewable energy sources and had been implemented as part of the company's strategy to be in tune with the Vision 2030, stated the report, citing a top official.
"The plant, which works on natural gas as a main fuel, is part of SEC's integrated strategy for implementing advanced electric projects that take into account the environmental conditions of the region as well as reduction of emissions while providing fuel to meet the energy needs of the industrial city, remarked CEO Ziyad Al Shiha.
The SEC chief said the project was initiated in April 2014 with General Electric (GE), the global power giant, clinching the $980-million contract for the engineering, construction and provision of gas turbine services for the plant.
"In line with the provisions of the deal, one of the gas turbines was assembled fully at the GE Manufacturing Technology Center in Dammam," he stated.
The plant, with one locally manufactured gas turbine, would have a significant contribution to localisation of the electric power industry, he added. According to him, SEC has invested in the construction of transmission stations and transmission lines to supply the mining city and its industrial projects with electricity.
"The new plant adopts the integrated composite cycle system (ISCCP) and modern gas turbine techniques that reduce carbon emissions and nitrogen oxides to reduce environmental pollution, increase efficiency and produce 50 MW through the concentrated solar power (CSP)," explained Al Shiha.
More Stories