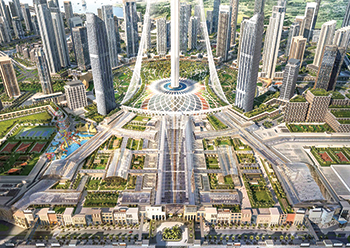 Giant hi-tech retail hub on anvil for Dubai
August 2018
Dubai Holding and Emaar Properties have announced the launch of Dubai Square, a new retail metropolis that pushes the boundaries of modern retail and leisure in Dubai Creek Harbour by drawing on next-generation technology.
Blurring the boundaries of online and in-mall shopping, integrating indoor and outdoor, and delivering a social experience like none other, the all-new Dubai Square is designed for the new era of customers, digital, connected and tech-savvy, and setting a benchmark for retail experiences in the 21st century, said Emaar.
It is set in the heart of Dubai Creek Harbour, the 6-sq-km mega-development near the Dubai International Airport and the iconic Burj Khalifa by Emaar, as well as set beside the historic Dubai Creek. Adjacent to the iconic Dubai Creek Tower, Dubai Square – in its totality – represents a 2.6-million-sq-m retail, hospitality and residential district for the future.
A tech-driven retail destination, Dubai Square was unveiled late last month at an exclusive retailers event that offered a fully-immersive experience for the participants. Through state-of-the-art 3D projection technologies, they were given an overview of the world of opportunities that await them in partnering with the bold and ambitious development that will transform the retail landscape.
Dubai Holding chairman Abdulla Al Habbai said: "Dubai is experiencing tremendous tourist inflow and continues to rank highly as a holiday destination for people from many different parts of the world. The city's appeal is anchored in its strong leisure and entertainment, retail and hospitality industry, the foundations of which Dubai Holding helped build and strengthen over time."
"The destinations we have delivered, such as Jumeirah Burj Al Arab, JBR, Global Village and Business Bay, are some of the most recognisable urban landmarks of today. Dubai Square is our new retail and leisure destination, and with this we aim to actually redefine the shopping experience by introducing a variety of innovative concepts," observed Al Habbai.
Emaar Properties' chairman Mohamed Alabbar said: "Dubai Square disrupts the traditional mall and retail experience. Focused on the aspirations of the new generation of customers, it reflects the vision of His Highness Sheikh Mohammed bin Rashid Al Maktoum, UAE Vice President and Prime Minister and Ruler of Dubai, to position Dubai as a global hub and a smart city."
"Dubai Square will play a pivotal role in further establishing Dubai as the next champion of global retail," he noted.
Dubai Square will also feature an eclectic mixture of styles and references. The inspiration comes from leading cities across the world, with the fashion selection at the retail outlets drawn from London's Oxford Street, Los Angeles's Beverly Hills, Paris's Champs-Élysées, Tokyo's Ginza, Piazza della Republica in Florence and Madrid's Plaza Mayor, said Emaar.
It will be linked directly to the Dubai Creek Tower through a cutting-edge underground extension. Here, the shoppers can revel at a plaza at the base of the tower. The plaza is a clock-shaped haven of landscaping, palm trees and water features sprawling across half a kilometre of land – the length of 10 Olympic-sized swimming pools.
Equivalent to the size of more than 100 football pitches – with over 750,000 sq m of gross floor retail space – Dubai Square pushes the boundaries of design and mall layout. It has nearly more than twice the gross leasable area of The Dubai Mall.
The giant retail development is spread across three levels, each presenting a unique set of experiences to the customer, said the developer.
Skylights, glazed roofs and shopfront windows will be part of the sensory visitor experience. Parks, patches of green and lush landscaping will provide a natural balance to state-of-the-art facilities. Special LED technology is set to drive impactful and interactive backdrops and delight customers throughout their journey, it added.
More Stories