Real Estate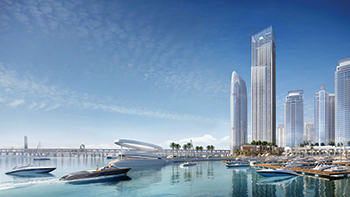 China's Fidu set to invest $1.36bn in UAE realty
August 2018
Fidu Properties, a leading Chinese company in the UAE property market, has announced massive expansion plans in the region, with over Dh5 billion ($1.36 billion) worth of investments in the emirates alone over the next three years.
The company, which opened its regional office in Dubai this April, is also keen to expand its footprint in the region amidst bullish trends expected in the real estate sector. Fidu aims to operate over 450 branches across the GCC and the Asian subcontinent in the next three years.
The new plans have been unveiled close on the heels of Fidu Properties' announcement to invest about Dh2 billion in the Dubai real estate sector by the year-end. As part of this, the company plans to introduce different real estate projects in Dubai to its high profile list of investors.
Amit Dahima, the marketing manager of Fidu Properties, says: "Fidu Properties is bullish about the growth potential of the real estate sector in the UAE. We feel the growth in the coming years would be phenomenal, particularly in the real estate sector which represents one of the strategic priorities of foreign direct investments into the UAE.
"Fidu also recently announced multiple real estate deals worth Dh380 million with Emaar Properties for residential and commercial spaces spanning 210,000 sq ft at The Grand in Dubai Creek Harbour – the iconic tower being built at the world-class waterfront destination in the emirate."
Rising majestically from Creek Island, the 62-storey Grand at Dubai Creek Tower skyscraper will set a new standard for ultra-modern living in the region.
More Stories