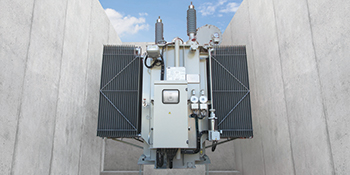 ABB launches a 'world first'
ABB Ability Power Transformer, the first digitally integrated transformer of its kind, is said to enhance reliability and efficiency.
September 2018
ABB says it has launched the world's first integrated solution for digitally enabled power transformers, fundamentally changing the transformer paradigm.
In addition to enhancing efficiency and product life, the new digital capability will boost reliability and mitigate outages through preventative action.
Unveiled at the 2018 Hanover Fair in Germany early this year, the ABB Ability Power Transformer is equipped with a digital hub that can leverage a portfolio of smart devices on a modular platform with plug-and-play capabilities. This modularity and scalability makes the system future-proof while giving users full control over their digital journey, according to a company official.
"The ABB Ability Power Transformer solution is a game changer. In addition to providing actionable intelligence at the local level, it will enable users to leverage the full ecosystem of software solutions and services at the station and enterprise levels, such as our industry-leading ABB Ability Ellipse Asset Performance Management System," says Claudio Facchin, president of ABB's Power Grids division.
He says all power transformers leaving ABB factories will soon come enabled with digital capabilities, allowing remote monitoring and data analytics of their vital parameters in real time. This will enhance reliability and enable higher utilisation of grid assets and power networks.
ABB has also announced the launch of ABB Ability TXplore, a service solution that deploys a submersible transformer inspection robot. The wireless robot can be manoeuvred through a liquid-filled power transformer to perform fast, safe and cost-effective internal inspection, which can be shared remotely close to real time with global experts. This innovative approach, another world-first, enhances safety by reducing personnel risk, reduces down time with inspection performed in hours versus days and brings inspection costs down by 50 per cent or more, Facchin states.
At the 2018 Hanover Fair, ABB also showcased its recently introduced ABB Ability TXpert distribution transformer, claimed to be the world's first digital distribution transformer.
Facchin explains: "TXpert provides intelligence to maximise reliability, optimise operating and maintenance costs and manage the asset more efficiently, building on the ABB Ability platform and connected devices to generate actionable intelligence. This product is the first of its kind to integrate sensing technology directly into the transformer during the manufacturing process, resulting in higher accuracy."
ABB pioneered transformer technology in the 1890s and has since been at the forefront of record-breaking innovations including the world's most powerful HVDC (high-voltage direct current) and AC (alternating current) transformers at 1.1 and 1.2 million volts, respectively.
As the world's largest transformer manufacturer and service provider ABB is believed to have an unparalleled global installed base and a vast portfolio of power, distribution and special application transformers. As a global market and technology leader, ABB serves utilities as well as industrial and commercial customers as the partner of choice for enabling a stronger, smarter and greener grid.
More Stories