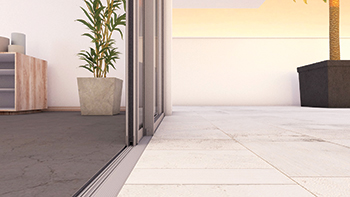 Reynaers helps to extend the outdoors
With the SlimPatio 68, Reynaers is looking to virtually eliminate the divides between the outdoors and indoors, offering panoramic views.
September 2018
Reynaers Aluminium's new SlimPatio 68 is the latest in a series of sliding systems that offers extended panoramic views through its creative design features.
The new system by the leading European specialist in sustainable architectural aluminium solutions, delivers superior air-, wind- and water-tightness. Its elegant flush design with concealed frame delivers higher wind load resistance through improved sealing technology and supreme comfort, says Ali Khalaf, managing director of Reynaers Middle East, the regional office for the Belgium-based company.
He says SlimPatio 68 is set to make its debut on a project already in the pipeline at Ithaafushi in the Maldives, which was secured through Reynaers Middle East.
Khalaf adds: "This new product helps maximise on panoramic views by reducing the visible lines of the profiles to a minimum. It is based on its market-proven predecessor, the CP 68, whose visible widths of 110 and 102 mm have all been reduced to the SlimPatio's slim profiles of 34 mm – a total reduction of 68 per cent.
"This has further been complemented by its beautiful flush design and a frame that is concealed in the wall cavities, offering elegant symmetrical views at a competitive price. A full-height integrated handle has been incorporated in the profile to keep the narrow lines intact."
In addition to enhanced aesthetics through the extended views provided, SlimPatio 68 also excels in comfort and safety. Outstanding thermal insulation, as well as superb air, wind and water (AWW) performance levels have been achieved, including classification 4 in air permeability (600 Pa) and 8A in water-tightness (450 Pa).
The SlimPatio 68 with a reinforced meeting section can handle wind loads of up to 2,000 Pa, which makes this solution ideal for areas exposed to harsh weather conditions such as coastal environments and high-rise buildings, says Khalaf.
Like the CP 68, the SlimPatio 68 solution offers a wide variety of options varying from a simple, single rail set-up to two- and three-rail solutions to allow for much wider openings where this is required.
The variety of combinations of fixed and sliding elements allows architects and designers creative freedom. This includes a concealed pocket solution, where the vents disappear into the wall, and a very narrow central closing option with a standard 7 mm spindle.
Vents can reach up to 2,700 mm and can support up to a maximum weight of 250 kg; considerably up from the 200 kg and 2,500 mm of the standard CP 68. Glass thicknesses of 24 or 36 mm are accommodated, delivering an insulation performance of up to Uw 1.2 W/sq m K.
Willem Naudts, product manager for sliding systems at Reynaers Aluminium, says the company is committed to continuous improvement to ensure its market leadership in offering superior levels of performance and comfort and a reasonable price.
"When we launched the ever-reliable CP 68 in 2014, it was designed to bring the superior features of our high-end products within the reach of all our consumers. That desire has not changed, and the SlimPatio 68 is proof of our dedication to quality and excellence through innovative design," he adds.
Reynaers Middle East is the Bahrain-based regional subsidiary of Reynaers Aluminium, a leading European specialist that manufactures and markets innovative and sustainable aluminium solutions for windows, doors, curtain-walls, sliding systems, sun-screening and conservatories.
Apart from a wide range of standard solutions, the company also develops tailor-made solutions for all market sectors – from residential to commercial and industrial projects. Reynaers' high-quality systems meet the most stringent demands in terms of comfort, security, architectural design, and energy-efficiency. It acts as a valuable partner for architects, fabricators, solar installers, project developers, investors and end-users.
Founded in 1965, Reynaers employs over 1,770 workers in 40 countries worldwide and exports to more than 70 countries on five continents.
More Stories