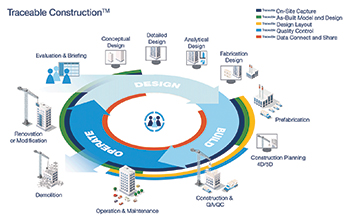 Faro develops integrated digital ecosystem
September 2018
The 'Traceable Construction' concept - an ecosystem of products and solutions that Faro offers to leverage the benefits of measured data throughout various stages of design, construct and operate projects in the built environment – was unveiled at the recent SPAR3D USA Expo and the BILT Conference by the US-based specialist in 3D measurement, imaging and realisation technology.
With this concept, Faro has essentially linked its products and solutions (and the data created by them) to the building/asset lifecycle.
"This enables industry professionals to 'see' what tasks can be undertaken with which products and what data will be created and how it can be used," says Oliver Buerkler, senior product manager at Faro.
By assigning five 'task types' to the various stages of a project, users can easily see what solutions are available within the ecosystem of products. The five task types are on-site capture; as-built model and design; design layout; quality control; and data connect and share.
As-built measurement helps document the building lifecycle through all stages. The stored data creates a history of what has been measured and is then 'traceable' or auditable during the design, build and operate stages (depending upon when the project started).
Buerkler points out it is fairly well understood that the benefits of digital laser/LIDAR capture are easily realised during initial evaluation and the briefing stages and through design – particularly when working within a building information modelling (BIM) process. Furthermore, the use of digital capture is increasingly evident on construction sites and is offering even further benefits such as increased accuracy, less re-work and better planning and coordination.
"Faro does much more than create measurement hardware; it has evolved and reshaped itself over the past few years, and the company can now be thought of as an architecture, engineering and construction (AEC)-focused company that provides complete solutions, and not just to its traditional customers," Buerkler remarks.
"It is not looking to compete against any of the established design tools but rather help integrate survey measurement and data into procedures that are already there. By focusing on digitising the real world of a construction, making progress and construction quality traceably documented becomes a reality in itself.
"As a solution provider for all applications using digital as-built data, Faro has recognised the need to share its experience and benefit with wider groups to highlight the potentially huge advantages it can offer," he adds.
Faro is looking to expose the places where "it plays along the project lifecycle" to stakeholders who are, of course, designers and constructors but also logistics planners, cost consultants, health and safety coordinators, project managers, maintenance managers, facility operators – essentially a huge selection of construction industry professionals, he says.
Buerkler believes 'Traceable Construction' will mature and evolve over the coming years – introducing new products and tools to customers (those who purchase the hardware and/or software) as well as the users of the resulting measurement or analysis data.
By adding value where reality data is needed or where reality data meets design or construction, Faro's solutions provide quality assurance and project confidence.
Understanding that there are many other built environment stakeholders that are still yet to use digital survey data and optimise reality data in their daily tasks, Traceable Construction will allow Faro to relate to its customers and the wider industry in a simpler, more effective way.
Buerkler continues: "It is widely acknowledged that many countries still focus on the design and construction aspects of BIM and mostly through 3D model creation and coordination to ultimately create 2D drawings. Whilst this is encouraging, the real gains sit firmly with the 'data' aspects of building an 'information' model.
"The UK's BIM Level 2 documentation outlines this process for all parties and in particular requires the use of 3D digital measurement techniques to record as-constructed conditions. The focus is very much on creating a consistently structured set of verified data, building in maturity through the stages of a project. This is a big boost for construction accuracy and one that Faro is looking to enable, support and optimise at all stages.
"For example, using Faro's measurement hardware and BuildIt Construction software for validating construction completion and tolerances, can shave large chunks of time from construction programmes all over the world whilst at the same time confirming what has been built before it is covered by finishes."
This is information that can be readily 'traceable' during the building's operational phase. This level of quality control for 'on-site' construction works hasn't been so common in the past.
Faro has proven that the solutions are readily available, that the return on investment is clear and achievable and that construction quality improvements are within easy reach.
Part of the enabling solution is 'data connecting and sharing'. WebShare Cloud, in this instance, is the current place where data storage, access, analysis and sharing can take place online and then accessed, requiring very little software training. "It's democratising the data and creating helpful, meaningful data-driven design and construction decisions to be made more accurately," he says.
Whilst 'Traceable Construction' lists and links Faro's significant portfolio of products that already assist many thousands of people, it is envisaged that future product developments will help stakeholders plug the reality data gaps in their projects throughout all stages. The solutions seamlessly integrate into existing customer workflows in the AEC industry.
"Traceable Construction – something you'll be hearing a lot more about – will be driven by the needs of the builders, engineers, architects and others and it will be beneficial to a much wider group," Buerkler concludes.
More Stories