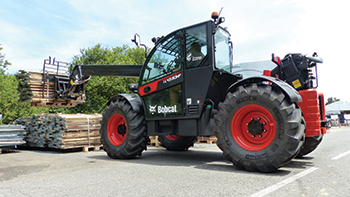 New Bobcat meets heavy lift handling demands
September 2018
With the launch of the TL43.80HF telehandler in the Middle East and Africa, Bobcat has provided a new solution for heavy lift handling applications in general industry, manufacturing, building materials, warehousing, quarrying and mining.
Bobcat now offers a range of 15 different rigid-frame telehandler models, covering maximum lifting capacities between 2.6 and 4.3 tonnes and maximum lifting heights from 6 to 18 m.
"At Bobcat, for over 60 years, we have been constantly innovating the market –always developing new machines for customers' needs. The new TL43.80HF is no exception to this legacy as it completes our range of telehandlers and ensures customers can benefit from unmatched loading productivity and lift capacity," says Olivier Traccucci, Bobcat Telehandler senior product manager.
Thanks to a high lift capacity of 4.3 tonnes and a maximum lift height of 8 m, the TL43.80HF offers an impressive package.
The telehandler has very high stability due to the box welded frame, low load centre, long wheel base and new massive rear counterweight, allowing Bobcat to minimise the overall dimensions of the machine, resulting in a width of only 2.3 m and a length of less than 5 m from the rear to the fork face.
Also, a short turning radius of 3.71 m makes the new telehandler highly manoeuvrable.
The rough-terrain capability of the TL43.80HF has also been optimised for applications such as working and digging in piles of materials with the incorporation of new heavy-duty Dana Spicer axles with limited slip differential and the outstanding tractive force available of up to 90 per cent of the machine weight.
In addition, the TL43.80HF offers as standard automatic functions that allow the operator to focus entirely on the work at hand, such as boom cushioning, the parking brake and the reversible fan which helps to keep the cooling system (radiator) clean in dusty environments.
All Bobcat telehandlers are covered by a three year/3,000-hour warranty as standard, with the option of extending the warranty to five years/5,000 hours.
More Stories