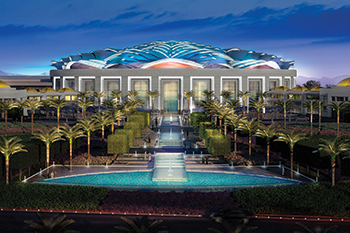 SSH chases Leed Gold status for OCEC project
September 2018
SSH, a leading masterplanning, infrastructure, building design and construction supervision firm in the region, is working towards its goal of winning a Leadership in Energy and Environmental Design (Leed) Gold accreditation for Package Three of its key Omani project – Oman Convention and Exhibition Centre (OCEC).
Since the completion of construction of Package Two in 2016 – comprising the 45,000-sq-m exhibition centre, 4,200-slot car park and associated landscaping – Omran, the state-owned master developer of major tourism, heritage, urban and mixed-use projects in Oman, employed SSH to move straight onto Package Three, the convention centre portion of the project.
The convention centre design includes a 3,200-seat theatre with two galleries, a second 450-seat auditorium, 19 meeting rooms with full audio-video installations, a grand ballroom with 1,200-seat banquet capacity, a junior ballroom with 540-seat banquet capacity, a food court, and associated back-of-house facilities.
As with Package Two, which was officially accredited with Leed Gold certification from the Green Building Council in the US in 2017, Omran and SSH are also seeking Leed Gold accreditation for the convention centre phase of the scheme.
SSH was originally signed up in 2010 as the engineering sub-consultant for the OCEC Package Two exhibition centre design stage, preparing final design and construction documentation for tender. Subsequently, in 2012, SSH was made the architect and engineer of record by Omran and in that capacity the company completed the detailed design and construction documentation for the convention centre, together with the site infrastructure and hard and soft landscaping designs for the project.
This fully integrated precinct developed by Omran within Madinat Al Irfan – a world-class, urban mixed-use development – is located just 4 km from Muscat International Airport.
The award of Leed Gold Certification also cements the building design's sustainability credentials, said the top master planner. This rating system evaluates the environmental performance of a building and encourages market transformation toward sustainable design, said SSH.
With a perfect score for water efficiency, the OCEC exhibition centre Package Two achieved an overall credit score of 65, exceeding the threshold for Leed Gold Status. Omran aims to mirror the Leed Gold success already achieved for the Package Two facilities with a similar Gold award for the convention centre phase of OCEC, and SSH is responsible for ensuring that this target is achieved.
"To repeat the Leed success we saw with the OCEC exhibition centre for the convention centre would be a proud moment for Omran, and for SSH" Danny Warde, the resident director of Oman at SSH.
More Stories