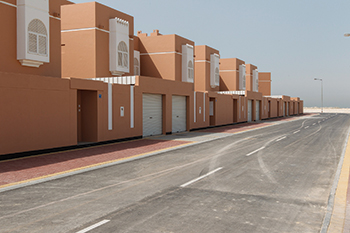 Bahrain homes on track for completion
September 2018
Bahraini authorities said key housing projects located in Khalifa Town, Al Ramli and Al Buhair are well on target for completion this year.
The massive housing project in Al Ramli is nearing completion, where construction on 1,256 units has reached 89 per cent completion, said Housing Minister Bassem Al Hamer.
Work on infrastructure components is also progressing steadily, with 53 per cent completed. The project, being constructed on 100 hectares, will provide 4,501 housing units for 29,260 people. It will also include schools, mosques, parks and green spaces.
"The Al Ramli project is part of a string of development schemes aimed to provide 25,000 units, featuring in the Government Action Plan," said the minister. He highlighted royal directives by the King to construct 40,000 housing units to cater to citizens' needs.
Work on the Khalifa Town project is moving at a steady pace with more than 1,100 housing units nearing completion.
Once ready by the year-end, the residential development is set to accommodate 54,000 people, reported the Bahrain News Agency (BNA) citing a senior Housing Ministry official.
"The construction of more than 1,100 units has so far reached up to 95 per cent," said Sami Abdulla Bouhaza'a, the assistant undersecretary for housing projects at the Housing Ministry.
The infrastructure components has reached so far 80 per cent completion, with the overall project expected to be ready late this year.
Bouhaza'a said the current phase of the project is being constructed in two stages in the area between the villages of Riyadh Askar and Bar Al Dur.
Meanwhile, bids have been invited for the designs of the upcoming stages of the Khalifa Town project, which will provide 6,000 units, he added.
At Al Buhair, 64 per cent of the work has been completed on the 227-unit project, reported BNA, citing the housing minister. Construction of the 310,000-sq-m residential development will be over by the end of this year, said Al Hamar.
The project includes more than 600 units to be implemented in stages, and provided with amenities suitable to satisfy the typical requirements of the Bahraini family, he added.
More Stories