Regional News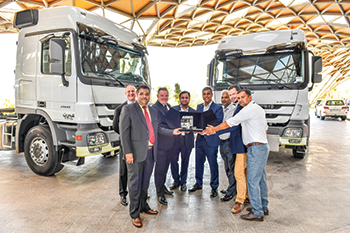 Agility receives 26 new Actros trucks
September 2018
Al Haddad Motors, the sole authorised general distributor of Mercedes-Benz in Bahrain, said it has officially handed over 26 new Mercedes-Benz Actros trucks to Agility, a leading global logistics provider in the region.
A number of representatives from both Agility and Al Haddad Motors attended the official handover luncheon ceremony held recently at ART Rotana in Manama.
The top officials included senior vice-president of Agility – Saudi Arabia, Bahrain and Oman Vivek Veettil, Agility Bahrain CEO Baiju Thomas, as well as the head of sales and key account management Mercedes-Benz Trucks Ross Davies, key account manager Mercedes-Benz Trucks Ionut Dumitrescu, Al Haddad Motors general manager Warren Hudson and commercial vehicles manager Ashraf Shareef.
Launched recently at Al Haddad Motors' showroom in Tubli, the all-new Mercedes-Benz Actros trucks boast state-of-the-art technologies that help in ensuring a safer, more comfortable and more efficient journey.
Actros is one of Mercedes-Benz's most popular models in the region with more than 100,000 units sold in a 20-year period. The heavy-duty vehicle has been developed mostly for transportation applications both for long haul and short-radius transport and distribution
Established in 1958, Al Haddad Motors continues to provide its clients with the most comprehensive and highest level of service.
More Stories