UAE Focus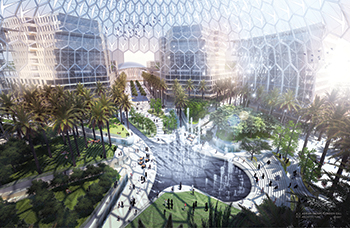 European group wins German Pavilion deal
September 2018
A consortium comprising Cologne-based agency facts and fiction and Swiss construction company Adunic has won the bid to design and build the German Pavilion at Expo 2020 Dubai.
While facts and fiction will be responsible for content, exhibition and media design, building the pavilion will be Adunic's job and architecture will be designed by Berlin firm Lava.
"We're delighted to have won the German Pavilion contest," said Dietmar Jahn, managing director at facts and fiction, commenting on the selection committee's decision. "It's a dream come true and a great honour for us to have our concept chosen to represent Germany at the Expo in Dubai."
An EU-wide notice of tender was published back in September 2017, inviting teams to apply to design the concept and to plan and build the interior and exterior of the German Pavilion for Expo 2020 Dubai. The brief also included the technical management of the pavilion during the World Expo from 20 October 2020 to 10 April 2021 and the dismantling of the pavilion after the event. Initially, applicants were asked to draw up a high-level concept.
This was followed by a second phase, in which a 17-member selection committee (made up of representatives of federal ministries, trade/industry associations and experts on Expo and regional matters) chose five interdisciplinary teams to put through to the next phase – the design of a detailed concept for the German Pavilion.
"The awarding of the contract to facts and fiction and Adunic marks the end of a 10-month process. We are happy that things can now progress and building work can start on our plot in Dubai next year," said Dietmar Schmitz from Germany's Federal Ministry for Economic Affairs and Energy.
More Stories