Events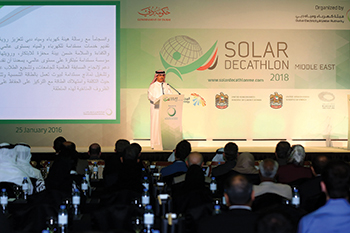 Focus on Solar Decathlon
September 2018
Dubai Electricity and Water Authority (Dewa), in collaboration with the Emirates Green Building Council (EmiratesGBC), organised the recent Solar Decathlon Middle East Seminar, which emphasised the importance of Net Zero Energy Buildings.
The event was a prelude to the Solar Decathlon Middle East (SDME), which is organised by Dewa. Dubai will host the first two rounds of this competition; the first in November 2018 with the participation of 18 university teams from 13 countries, and the second in 2020 to coincide with Expo 2020 Dubai.
SDME is part of an agreement between Dewa and the Dubai Supreme Council of Energy with the US Department of Energy.
"This year's competition is particularly important, not only because it is being held for the first time in the Middle East and Africa, but also because it is being organised during the Year of Zayed, which marks 100 years since the birth of the late Sheikh Zayed bin Sultan Al Nahyan, who consolidated the principles of sustainable development in the UAE," said Saeed Mohammed Al Tayer, managing director and CEO of Dewa. "Dewa provides all that is needed for the success of the Solar Decathlon Middle East in the UAE, which has become a platform for innovation, a destination for innovators, and an incubator for creative minds from all over the world."
More Stories