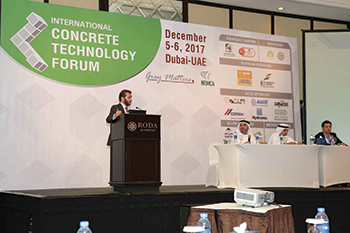 Mideast firms must focus on digitisation
September 2018
Construction companies in the Middle East must adopt new technologies to survive in a digital world, said leading experts ahead of a major industry event in Dubai, UAE.
The Construction Technology Forum 2018, which will run from September 24 to 25 at the Address Hotel Dubai Marina, is designed to provide insights on how adopting technology can reduce operational costs, boost productivity and enhance overall quality across all elements of the industry supply chain.
The global construction industry is gearing for massive changes and challenges, compelling Middle East companies to adopt new technologies or risk falling behind, said a top official.
"There is no stopping the megatrend toward digitisation," remarked Mibu John, a partner and managing director for Ventures Middle East, a leading management consulting and research company.
"Companies who move early to develop and implement their own digitisation strategy will be the winners as the construction industry goes digital. Otherwise, lack of expertise in new technologies could become a serious competitive drawback," noted John.
With new technologies like artificial intelligence (AI), 3D printing, building information modelling (BIM), IOT (Internet of things), and cloud-based solutions to manage the surge of Big Data in construction, the challenges now plaguing the construction industry could soon become less relevant.
"Undoubtedly, adopting these new technologies in construction will improve predictability, speed of delivery, environmental sustainability, design freedom and reduce manpower cost," remarked John. "However, these new technologies need to be supported by compatible tools that connect systems at every link in the value chain, and conditions need to be established that enable the technological revolution in construction at scale."
Just by implementing its AI strategy, the UAE estimates a growth rate of 26 per cent, and economic savings of Dh335 billion ($91 billion).
According to experts, new technologies are already impacting the way the sector develops and builds in the UAE.
Dubai's Future Foundation's 'Office of the Future' (designed and master-planned by UAE-based architecture firm Killa Design) is the world's first fully functional and permanently occupied '3D printed building'. The entire structure was printed in concrete using an additive manufacturing technique, said Ben Piper, partner and design principal at Killa Design in Dubai.
More Stories