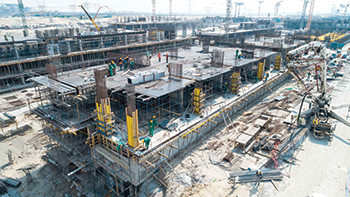 Azizi Riviera 20pc completed
September 2018
Azizi Developments, one of the leading private developers in the UAE, has announced a major construction milestone for Azizi Riviera, its flagship Dh12-billion ($3.26 billion) waterfront community project located at Meydan One in Dubai, UAE.
Construction work on Azizi Riviera, which was launched in July 2017, is now 20 per cent complete.
The mega development, which boasts 16,000 residential units, will feature a unique architecture, which, while drawing inspiration from the French Riviera lifestyle, will also contain versatile, contemporary elements, says Azizi.
On the project progress, Azizi says the ground floor works have been completed across the mid-rise buildings that comprise seven to 10 floors.
With the first floor construction ongoing, and second and third floors due to begin construction last month (August), Azizi Riviera is progressing towards a timely completion, says a top official.
"Azizi Riviera continues to be a unique waterfront residential development in Dubai. It stands to offer residents and investors high ROI (returns on investment) via an appreciation in property value in the build-up to Expo 2020 and beyond," remarks group chairman Mirwais Azizi. It features a stunning French-Mediterranean approach to design, plenty of amenities, a community-oriented lifestyle and views of the Dubai Canal and Dubai skyline."
A major highlight of the development is a mega integrated retail district, which will consist of high-street bridge brands, leisure and entertainment options. It will also offer access to long paved pedestrian paths and water transport, yachting facilities and a proposed marina, among other attractions.
Meanwhile, Azizi Developments is set to complete the Dh265-million ($72 million) mixed-use project Shaista Azizi, one of its five projects in Al Furjan, by the end of this year.
Shaista Azizi will have 12 residential floors, that will offer a total of 284 units, comprising 137 studios, 124 one- and 23 two-bedroom apartments, in addition to a retail space of 7,100 sq ft.
The project is advancing at a fast pace with facade works, and mechanical and electrical installations progressing to the eighth floor and upwards. External works are moving as per plan to complete the building by the end of the year, says Azizi.
Shaista Azizi residential apartments will also feature parking facilities, a swimming pool and a cutting-edge gymnasium.
More Stories