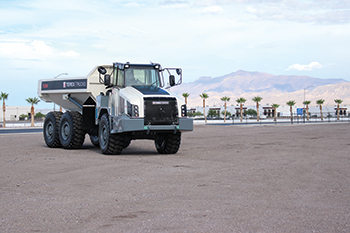 Upgraded Terex hauler saves on fuel
September 2018
Terex Trucks has updated its TA300 articulated hauler with a new transmission, leading to improvements in fuel efficiency, performance, productivity and operator comfort.
The 28-tonne workhorse now incorporates the latest EP320 transmission from ZF as standard, resulting in a five per cent improvement in fuel efficiency, as well as enhanced performance and productivity, when compared to the previous model working in the same application, according to a company spokesman.
The hauler's fuel-efficient Scania DC9 engine meets the requirements of EU Stage 4/Tier 4 Final emissions legislation without a diesel particulate filter (DPF). Together with the new fuel-efficient ZF EP320 transmission, this means significantly reduced fuel consumption and operational costs.
Its eight forward gears and four reverse gears offer a higher overall gear ratio spread, optimising gear shifting and thus ensuring smoother gear shifting.
The TA300's maximum speed has also increased from 50 to 55 kmph, helping customers achieve faster cycle times and lower cost per tonne.
Other operational features include automatic shifting with manual over-ride, a hydraulic integral retarder and a hydraulic power-shift longitudinal differential lock. Together, these help to ensure safe and productive operation, as well as reduced fuel and DEF consumption on job sites.
The TA300 also now comes with long-life transmission fluid, increasing the length of time between oil maintenance intervals from 1,000 to 4,000 hours.
"Introducing the new transmission to the TA300 articulated hauler continues Terex Trucks' commitment to install product performance and productivity improvements that lead to lower operational costs for our customers," says Scott Pollock, product manager at Terex Trucks.
"Developing and testing the new EP320 transmission for the TA300 was a collaborative effort between Terex Trucks and ZF. The new transmission has been calibrated specifically for the TA300 and rigorously tested for two years internally and by operators on real job sites, working in a variety of conditions."
Pollock says operators have had nothing but praise for the upgraded machine. "Among some of the most commonly cited benefits are the improved fuel efficiency and performance, as well as the smoother gear shift quality," he says.
The TA300 is a proven performer on large-scale construction projects as well as in quarries and on infrastructure developments, the spokesman says.
The machine has fully enclosed, oil-cooled, multi-disc brakes at all six wheels. These are supported by both the engine brake and the transmission retarder, giving the operator superb control and increasing safety and stability while providing a low cost of operation, he adds.
In addition, the cab boasts pressurised capabilities and a high-performance heating and cooling system for greater operator comfort and productivity.
UK-headquartered Terex Trucks is a manufacturer of off-highway articulated haulers that are used in mining, quarrying and construction applications around the world. A division of Volvo Construction Equipment, Terex Trucks has two models of articulated haulers, with payloads ranging from 28 to 38 tonnes.
More Stories