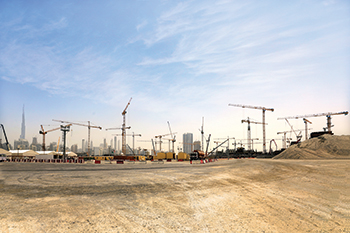 NFT propels Potain to greater heights in region
October 2018
NFT, one of the largest tower crane suppliers in the region and the only dealer for Potain in the Middle East, says luffing tower cranes from the leading Manitowoc brand have become very popular over the past three years.
With the increasing number of high-rise towers being built in the region, the demand for luffing cranes with big capacities, such as the Potain MR 418, has been on the rise.
According to NFT's strategy and marketing manager Nagham Al Zahlawi, luffing cranes are special as they can be manoeuvred in tight spaces, especially when surrounded by buildings.
"The Royal Atlantis Residences is NFT's flagship project for this model," she says. "Currently, 10 MR 418 cranes have been installed on that site and have been working efficiently for the past two years. This makes the Royal Atlantis jobsite the first in the UAE to use the new Potain machine."
The most popular model for NFT, however, is the MC310 K12, which has a 70-m jib and can lift 3 tonnes at the tip and 12 tonnes maximum. "The crane is considered large in Europe, but in the GCC, it is standard. In Bahrain, NFT has erected several units of this model for the King Faisal Corniche Development in Bahrain," she points out.
Another fast-selling model for NFT is the flat-top MCT 205 tower crane. The company has installed 23 units of this model this year in Abu Dhabi and Dubai alone.
Al Zahlawi says the GCC is unique when it comes to special requirements for high-capacity cranes (30 to 60 tonnes).
"Our region definitely has the highest population of such cranes. Recently, for the airport in Kuwait, NFT erected many MD 1100s for lifting concrete and steel," she comments.
She adds: "The MD 1100 cranes are an increasingly popular option on large infrastructure projects that require the handling of large structural components. They have a maximum capacity of 50 tonnes, while at their maximum jib length of 80 m they can lift 10.6 tonnes."
This demand for high-capacity tower cranes is pushing manufacturers to focus on larger equipment, she says, adding that NFT's advantage is that it has the largest Potain tower cranes in its fleet – such as strong luffers, with the MR 418 and MR 608 and the largest Potain tower crane: MD 3200.
Award-winning and resilient to economic changes, NFT has come a long way since its establishment in the 1980s. Headquartered in Abu Dhabi, NFT has set up bases all over the Middle East, along with partner offices in the UK and Belgium through Radius and NFT Europe. It has over 2,000 employees worldwide.
To date, it has supplied tower cranes to 32 countries and is able to export to anywhere in the world. With 20 depots and three main yards in the GCC, NFT is in a strong position to meet demand anywhere, anytime, Al Zahlawi claims.
NFT's strength lies in the fact that it's able to supply cranes or equipment to any project type, or take up any technical challenge. Its fleet includes small, self-erecting cranes – 700 kg and 26 m/min – as well as much larger cranes.
"What sets NFT apart from the rest is its remarkable stock of 2,000 new and used tower cranes, over 500 hoists, and its full stock of quality spare parts. With this substantial stock, NFT can supply all types of projects with crane models ranging from the small self-erecting cranes to the enormous tower cranes able to lift up to 80 tonnes," says Al Zahlawi.
"Being in the industry since the beginning has allowed NFT to develop its technical expertise to cater to the region. All projects are studied by proficient engineers, who can then recommend the most efficient, cost-saving and optimised solutions for every project," she says.
NFT has worked on some of the world's most prestigious projects, and holds the distinction of being the number one tower crane supplier worldwide and rental firm in terms of capacity for two consecutive years (IC Tower Index, 2017).
Apart from The Royal Atlantis Resort and Residences, NFT has supplied tower cranes to other megaprojects recently, including Expo 2020 projects.
Al Zahlawi says NFT has been a proud contributor of the Expo 2020 Phase One infrastructure package, which includes Expo Village and the Dubai 2020 Metro Line. In the former, NFT has installed 11 tower cranes including MC 175s, MCT 205s and MCR 225s. For the Dubai Route 2020, the company has installed two Potain tower cranes, four MC 310 K 12s and two MCT 358s.
At the main Expo 2020 site, a total of 45 tower cranes have been installed and works are ongoing including for the shade structure and canopy installation. These include Potain's luffing tower cranes such as the MCR 225 and flat-tops like the MDT 368 L16 able to lift up to 16 tonnes.
Adjacent to the expo site, a large mega mall is being built by Salini Impregilo, where NFT has installed 30 tower cranes and currently has a full maintenance team on-site 24/7 to ensure breakdown time is minimised, Al Zahlawi points out.
NFT currently has 208 tower cranes currently on hire in Abu Dhabi, Dubai and Sharjah. This is in addition to cranes that have been sold. In Kuwait, it has 120 tower cranes on hire, split between five mega projects including Hyundai Al Zour LNG import terminal project.
The UAE capital has also seen an increase in the number of contracts awarded over the past few months, including the Reem Mall being built where NFT installed 15 tower cranes in five weeks.
NFT was awarded the main supply contract of 15 Potain tower cranes for the four-storey Reem Mall in 2017. These include the MDT 368 L12, MC 475, MD 560, MD 310, MC 310 K 12 and the MD 1100 lifting 40 tonnes.
Among other developments, NFT has partnered with GJJ to create the NFT-exclusive Orbit brand. For less price-sensitive clientele, NFT is also the exclusive dealer for Pega, a CE-certified European brand of hoists, which have a load capacity ranging from 1-4 tonnes and speeds of 36 to 120 m/minute.
"In fact, a package of 16 Pega hoists were used on the Burj Khalifa project in Dubai at a height of 801 m, positioning NFT as the dealer operating the world's fastest Pega hoist cranes: 120 m/min with a noticeable 3.2-tonne lifting capacity," Al Zahlawi concludes.
More Stories