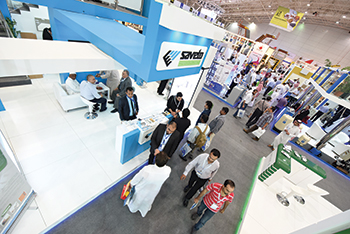 Saudi market in focus
The 30th edition of Saudi Build puts the spotlight on key projects in the kingdom's multibillion-dollar construction sector, in line with the country's Vision 2030.
October 2018
More than 500 exhibitors are expected to converge over 18,000 sq m of exhibition space to showcase their products and services as Saudi Arabia's longest running trade exhibition for construction materials, building and environmental technology marks three decades of success.
Saudi Build 2018, now in its 30th edition, is being held this month (October 22 to 25) at the Riyadh International Convention and Exhibition Centre in the Saudi capital and expects to attract an audience that includes investors, real estate developers, contractors, suppliers and distributors, consultants, national delegations, and project managers from Saudi Arabia as well as elsewhere in the Middle East.
There will be seven national pavilions, comprising those of Saudi Arabia, China, Germany, Italy, Portugal, Turkey and the UAE, and 27 participating countries overall this year.
"Saudi Build has a long-standing history of delivering a world-class platform for local and international industry players to capitalise on the immense opportunities in Saudi Arabia's robust construction market, which comprises a 45 per cent share of the total Middle East market," says a spokesman for the Riyadh Exhibitions Company, the show's organiser.
In line with Saudi Arabia's Vision 2030, the construction industry in the kingdom is expected to rise to $105.4 billion in 2021, according to Timetric reports, implying numerous opportunities for local and international stakeholders. The government has plans to involve the private sector, which is expected to result in more projects being financed by the latter.
Amongst the highlights of the projects scene in Saudi Arabia is the new $500-billion Neom mega-city that will bridge three countries. The city will be built on a whopping 26,500-sq-km area near the Red Sea, and will extend across the Egyptian and Jordanian borders. It will focus on innovative industries including biotechnology as well as advanced manufacturing, energy, water, food and entertainment.
The kingdom is also expected to focus on further developing its infrastructure to cope with the anticipated industrial, commercial and residential projects that are expected to take shape. Some 116 water supply and sanitation projects worth SR4.9 billion ($1.3 billion) were announced recently.
Also, the country's road, bridge and tunnel contract awards are expected to increase from $2.5 billion in 2017 to $3.5 billion in 2018. Spending on railway infrastructure is expected to grow at a compound annual growth rate (CAGR) of 7.88 per cent annually from 2016 to 2020. In addition, the country's construction equipment market is projected to grow at 3.1 per cent annually during 2017-2022.
Saudi Build 2018 provides visitors an opportunity to meet some of the decision markers in the construction industry. The event will be held concurrently with two other exhibitions: Saudi Stone-Tech and the PMV Series.
Saudi Stone-Tech 2018, in its 21st edition this year, is a specialised platform for the stone and complementary products industry. It will bring together local and international suppliers, manufacturers, distributors and other stone industry professionals to discuss potential partnerships and explore investment opportunities.
The PMV Series 2018, meanwhile, which is running for the ninth year, is a dedicated platform for the heavy machinery industry to discuss the needs of the Middle East's largest construction market and explore massive business opportunities. It will gather manufactures, dealers, and other key players from around the world.
In 2017, Saudi Build drew a total of 512 exhibitors from 32 countries and featured 10 national pavilions over 18,700 sq m of exhibition space. A total of 18,764 people visited the show and around 4,200 attended various educational workshops. About 76 per cent of these visitors were from within Saudi Arabia, 19 per cent from the wider GCC and five per cent from outside the region.
Commenting on last year's show, Giuseppe Lamacchia, director Italian Trade Agency (ITA), said: "Saudi Build is very interesting for Italian exhibitors. Saudi Arabia is a challenging market and people here like high quality products and our exhibitors are presenting the very best Italian-made products. It's been five consecutive years that we are participating in this show and for sure we will come again next year because we find it successful in number of visitors and their quality."
On the sidelines of the exhibition, several workshops were held by the Saudi Engineers Association, highlighting some of the most important topics in the construction and building sector.
Riyadh Exhibitions Company is a Saudi company specialised in organising exhibitions, conferences and other trade events. Over the past 38 years, it has organised more than 450 successful shows and conferences and boasts an international presence, supported by over 120 commercial and industrial bodies from more than 50 countries.
More Stories