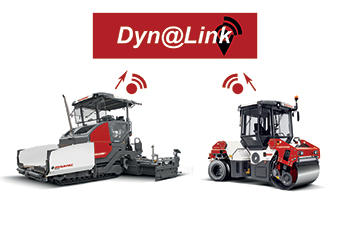 Tool helps monitor, control machine fleet
October 2018
Dynapac Compaction Equipment has launched Dyn@Link, a tool that allows customers to monitor and control their machine fleet efficiently and conveniently.
This intelligent telematics system offers many possibilities to optimise fleet usage, reduce maintenance cost and save time and money, according to a company spokesman.
Dyn@Link is available in three packages: Dyn@Link Standard, Dyn@Link Advanced and Dyn@Link Pro.
• Dyn@Link Standard: This package records the location of a customer's equipment – both Dynapac-made machines and equipment by other manufacturers – once every hour. The last known location of each machine is visible on a map in the online portal. Geo-fences can be defined so that when a machine leaves a certain area, an alert is sent to a pre-defined e-mail address.
• Dyn@Link Advanced: This offers several interesting additional features supporting a full optimisation of the machine park. It registers the equipment location every minute and logs many extra machine parameters like fuel consumption, engine load and coolant temperature, thus allowing customers to analyse fuel consumption per hour for instance, or compare the performance of different machines.
Another feature is productivity analyses, based on operating and idle times. With this information, fleet managers can talk to the operators on the ground, find out the reason, and come up with a solution.
• Dyn@Link Pro: This is the most extensive package offered and especially useful for the most advanced equipment like asphalt rollers, pavers and planers. In addition to features offerd by Dyn@Link Advanced, the Dyn@Link Pro includes paving parameters like screed width and layer thickness values, all linked to the geographical location of the paver. This package also offers an integrated interface with BPO Asphalt, a construction process optimisation tool that allows contractors to optimise planning, execution and documentation of construction projects.
Depending on personal preferences and requirements, the Dyn@Link online portal can be customised for measurement units, map settings and notification frequency.
With the various filters and personal settings for graphs and tables, the webpage can be adapted to individual requirements to meet various customers' needs. Users can access this information from anywhere and at any time.
Dyn@Link allows users to set up automatic reports on a daily, weekly or monthly basis. This provides useful information on fuel consumption, usage and service status to fleet manager and others.
It also offers the possibility of setting up maintenance schedules. This helps planning service efficiently, reacting pro–actively and avoiding costly breakdowns.
More Stories