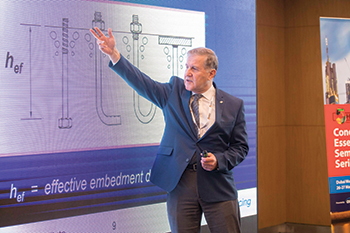 Regional expansion outlined
AMERICAN CONCRETE INSTITUTE
November 2018
The American Concrete Institute (ACI) has partnered with The Big 5 to host its popular ACI Concrete Essentials Seminar Series at the premier construction show this month in Dubai, UAE.
The series comes after a successful event held in March this year at The Big 5 Heavy show in Dubai.
More than 200 people attended the two-day seminar series, which gave participants an introduction to ACI and a deeper insight into several sought-after topics relating to concrete construction. Attendees also had the opportunity to ask ACI experts in-depth questions about the topics they presented and ACI's activities in the Middle East.
"For more than 100 years, the ACI has been the source the world looks to for the standards of concrete design and construction," says Ronald G Burg, PE, executive vice president, American Concrete Institute.
ACI's global membership develops its consensus-based standards, technical resources, training and certification programmes, and provides proven expertise for individuals and organisations involved in concrete design, construction, and materials.
The institute is now looking at boosting its presence in the region and engaging with concrete professionals around the world.
"Partnering with The Big 5 in Dubai is one of the ways ACI is establishing stronger relationships with organisations internationally," says Burg.
Planned for The Big 5 this month are popular topics such as concrete basics, mass concrete, and concrete repair, and more.
Additionally, the seminar series will feature a two-part course on the ACI Building Code Requirements for Structural Concrete, which – under a recently-signed agreement with the GCC Standardisation Organisation – will be used to develop a Gulf Building Code, he says.
The seminars will be conducted by Kevin MacDonald, PE, principal engineer at Beton Consulting Engineers; and Khaled Nahlawi, PhD, PE, engineer at ACI.
A core mission of the institute is to ensure that concrete professionals have access to information and resources to effectively use concrete. In line with this mission, ACI has announced the opening of the ACI Middle East Regional Office in Dubai, thus marking the first time the institute has opened an office outside the US.
"The opening of this office will allow ACI to increase knowledge-sharing throughout the Middle East, disseminate technological innovation occurring throughout the region with its global membership, and establish and nurture regional strategic relationships with members, chapters, companies, governmental bodies, educational institutions, partners, and other construction industry organisations," continued Burg.
This office will be led by ACI's newly hired Middle East regional director Ahmad Mhanna. A grand opening celebration is planned on January 6.
More Stories