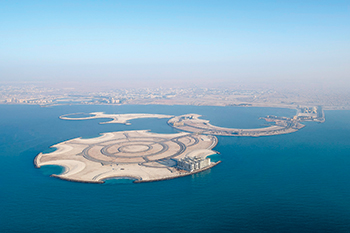 Targeting tourists
With all eyes on the Expo 2020 Dubai, the Northern Emirates are aiming to cash in on the potential of this world-class event by boosting their tourism potential and offering affordable housing prospects for people working in Dubai.
November 2018
The Northern Emirates, which comprise Ajman, Fujairah, Ras Al Khaimah, Sharjah and Umm Al Quwain, are steadfastly developing their real estate and tourism potential to cash in on the growth of their more affluent neighbouring emirates Abu Dhabi and Dubai.
Given the high-octane buzz in Dubai in the run up to the Expo 2020, these emirates are exploring opportunities created by this mega world-class event. According to the Business Monitor International's latest infrastructure report, while elevated levels of project activity are focused in Dubai and Abu Dhabi, the smaller emirates will play an increasing role in driving growth as ambitious infrastructure investment agendas swell their respective project pipelines in the coming years.
Mega developments such as Aljada, Sharjah's the largest-ever mixed-use project, have received resounding response according to developers, who report that at the recent Cityscape Global in Dubai alone some 652 homes worth Dh545 million ($148 million) were snapped up by buyers.
Some of these emirates, particularly Sharjah and Ajman, are aiming to provide affordable living alternatives for people working in Dubai and willing to commute for the savings that can be made in rents.
According to Dubizzle, a leading property platform in the UAE, Sharjah is known as the go-to emirate for those looking for affordable living in the UAE, with many residents working in the neighbouring emirate. Well equipped with schools and family-friendly facilities, the emirate poses an attractive option for both property rental and investment.
Ajman, similar to Sharjah, provides a more affordable cost of living for residents compared to its wealthier emirates. Boasting a rich cultural scene, the emirate has a variety of facilities for families, including schools and recreational activities, says Dubizzle.
The Northern Emirates are also attracting large numbers of visitors from the GCC, who accounted for over 30 per cent of hotel check-ins in 2017, according to reports. This has been attributed to the improved transport infrastructure, the choice of new luxury properties and new attractions.
Ras Al Khaimah is reportedly looking at more than doubling the number of its hotel rooms, from 6,200 currently to 12,800, the largest proportionate pipeline in the GCC. According to the Ras Al Khaimah Tourism Development Authority (RAKTDA), tourist arrivals are set to grow from one million this year to over 2.9 million annually by 2025, driving the demand for hotels and resorts.
The authority has plans to grow its current resort portfolio from just over 5,400 rooms to more than 10,000 by the end of 2020. An additional 15,000 hotel units are required in the next seven years to serve the growth in tourist arrivals. About 7,000 new hotel rooms are set to be added, mostly in the five-star beach resort category by 2021, with nearly 71 per cent to be delivered on Al Marjan Island.
Following the opening of the boutique One to One Hotels and Resorts and The Ritz-Carlton Ras Al Khaimah, Al Hamra Beach earlier this year, the emirate is expected to usher in a number of hotels including a 250-room Rove Hotel directly linked to Manar Mall.
Fujairah is adding 600 keys to its current stock of 4,300 rooms, with several new properties operated by Emaar Hospitality, Fairmont and Intercontinental making their debut in the emirate.
Ajman aims to raise the number of hotel guests to some 700,000 annually, and book approximately 2.2 million guest hotel nights by 2019, an increase of 64 per cent, a media report says. According to statistics released by the Ajman travel department, the number of local hotels has risen to 39, which account for 3,654 rooms. The emirate received a total of 544,447 tourists last year.
Airports & Ports
To facilitate their tourism ambitions, the Northern Emirates are also boosting their aviation infrastructure.
Earlier this year, Sharjah Airport Authority (SAA) signed three agreements worth approximately Dh100 million ($27.2 million) for the ongoing comprehensive expansion of its airport estimated to cost Dh1.5 billion. The expansion, being implemented over several phases, includes constructing new terminals for arrivals and departures, as well as aircraft hardstands and connecting them to the existing building, and constructing roads to the airport.
Fujairah recently awarded a consortium of Orascom Construction (ORAS) and the UAE's Al Sahraa Holding Company a $180-million deal to develop its international airport.
And in Ras Al Khaimah, extensive renovation work, which included the duty free area, was recently completed at the emirate's international airport.
Meanwhile in the ports sector, the Port of Fujairah is in the midst of redevelopment which includes construction of a 1,000-m quay, a 300,000-sq-m storage yard, and deepening of berths to a draft of 16.5 m to increase capacity and enable the arrival of larger vessels.
Tourism & Leisure
Blessed with a scenic mountainous terrain, pristine beaches, and diverse landscapes such as desert and springs, the Northern Emirates are making concerted efforts to boost their tourism potential by offering adventure and culture-based experiences.
Ras Al Khaimah is making significant gains in tourism with its extensive coastline, sandy beaches, natural mangroves, the UAE's tallest mountain and a rich cultural heritage highlighted by the archaeological findings. Early this year, the emirate officially opened to the public the world's longest zip line measuring 2.83-km on Jebel Jais, the tallest mountain in the UAE.
RAKTDA and RAK Ports have also joined hands to develop cruise and water tourism in the emirate. Plans include transformation of its existing ferry terminal into a modern and efficient boutique cruise passenger terminal and developing marine transport infrastructure around it.
Sharjah has embarked on plans to build a botanical garden over a sprawling 600,000-sq-m area. Grimshaw, a leading UK-based architectural firm, is working on the design the garden with a team based in its New York and London studios.
Real Estate
Sharjah's $6.3-billion Aljada and Ras Al Khaimah's Al Marjan Island have hogged the limelight over the past year with several developments having unfolded at these landmark developments.
Some of the largest real estate developments under way in the Northern Emirates include:
• Aljada: This masterplanned destination is located on the last large plot of undeveloped land in the heart of Sharjah. Unveiled in September last year by the UAE's newest developer Arada, the 24-million-sq-ft project is expected to be delivered in phases between 2019 and 2025. At Cityscape Global last month, Arada unveiled the final masterplan of the 1.9-million-sq-ft Central Hub, the focal point of this ground-breaking development. Designed by Zaha Hadid Architects (ZHA), the Central Hub is a bold new leisure and entertainment destination for the emirates. Work has started on the first phase of the Central Hub following the award of the main contract to Modern Building Contracting Company (MBCC). Infrastructure work is also under way on the site (see Page 58).
• Nasma Residences: This 800-villa and townhouse community development, is also being developed by Arada, in Sharjah. Work on the first phase of Nasma Residences is reported to be on track for handover by the end of this year, while work on Phase Two is more than 20 per cent complete. Arada has also launched the third – comprising Sama Majlis Villas – and fourth – featuring the 302-unit Bareem Townhouses – phases of the project.
Meanwhile, work on Nasma Square, the 6,500 sq-ft shopping mall for the community, is expected to be completed by the end of this year. The entire project is scheduled to be completed by the end of 2019.
• Sharjah Waterfront City: Construction work on this Dh25-billion ($6.8 billion) mixed-use masterplanned waterfront community coming up in Sharjah is under way with Phase One villas slated for delivery in the fourth quarter of 2019. Its developer, Sharjah Oasis Real Estate, says it has completed Dh3 billion ($816 million) worth of infrastructure development at the project.
On completion, the mega project will boast 1,500 villas, 95 towers in eight islands, a marina with 800 berths, a water theme park, a large shopping mall besides a commercial cluster and retail arcade. Sharjah Waterfront City stretches over 60 million sq ft of the Gulf's coastline and aims to create a vibrant community of 60,000 people.
• Al Mamsha: Construction work on Alef Group's Dh3-billion ($810 million) Al Mamsha project in Sharjah has commenced following the appointment of Al Hamad Building Contracting Company as the main contractor. The emirate's first pedestrian community will cover an area of 3 million sq ft and feature a total of 33 buildings, which the first phase comprising seven buildings.
• Al Marjan Island: This man-made archipelago of four coral-shaped islands in Ras Al Khaimah, comprising resorts and tourist destinations, saw its latest investor United Ventures and Investments announce the launch of a 300-room hotel and discovery, fitness and history-themed entertainment park at a total development value of $200 million (see Page 108). The island currently has over 1,600 operational five-star hotel keys, including Rixos Hotels, Hilton Hotels & Resorts and Accor Hotels brands, and more than 2,000 residential units including Bab Al Bahar residential and Pacific by Select Group.
• Hayat Island: Hayat is one of the two islands that comprise Mina Al Arab, an established waterfront community in Ras Al Khaimah. Its master developer RAK Properties has now launched two projects – Marbella Villas and a new public realm entertainment area called Angel Bay – on the island. Marbella Villas comprises a select 205 beachfront villas and townhouses, with views over open water and access directly onto the private beach. RAK Properties is collaborating with leading international British architectural design firm RMJM to create Angel Bay, an outdoor entertainment that will be developed into a first-of-its-kind destination in the region. Also taking shape at Mina Al Arab is the five-star 225-key Anantara Mina Al Arab Ras Al Khaimah Resort, which is expected to open in late 2020.
• Al Zorah: Al Zorah, a premier mixed-use coastal living development in Ajman, continues to expand, blending the best of nature with modern amenities. The key offerings at Al Zorah include an 18-hole Nicklaus Design championship golf course, The Oberoi Beach Resort and the recently unveiled Marina 1. Among the latest developments, Gems Education is setting up a new school within the project.
Meanwhile, Sharjah in particular has drawn significant interest from leading developers from elsewhere in the UAE, which are looking to tap the emirate's real estate potential. For instance, Eagle Hills, an Abu Dhabi-based private real estate investment and development company, has joined hands with Sharjah Investment and Development Authority (Shurooq) to spearhead three major developments worth a total of Dh2.7 billion ($735 million). These include Maryam Island, Kalba Waterfront and Palace Al Khan projects. Eagle Hills Sharjah recently launched Sapphire Beach Residence, its second residential building of Maryam Island, after Azure Beach Residence, which was launched in April.
Kalba Waterfront, a mall featuring 86 retail outlets including a wide variety of dining options, offers a gross leasing area of 11,200 sq m within the Kalba Eco-Tourism Project. Work is currently in progress on the project, which is set to open in the third quarter of 2019.
Eagle Hills is also working on the 38,258-sq-m Fujairah Beach mixed-use development in Fujairah, which will be home to the 167-key Palace Hotel and 80 luxury villas when it is completed next year. The new Palace Fujairah Beach will be managed by the renowned Address Hotels + Resorts brand.
Dubai-based developers that have shown interest in spearheading developments in Sharjah include Majid Al Futtaim – Properties and Emaar Hospitality Group.
Majid Al Futtaim – Properties has tied up with Sharjah Asset Management to launch Uptown Al Zahia, the latest neighbourhood in Sharjah's premier lifestyle destination – Al Zahia. Upon completion in 2022, Uptown Al Zahia will be home to more than 700 families, with a masterplan that focuses on exclusivity, walkability and convenience.
Emaar Hospitality Group, a subsidiary of Emaar Properties, has signed a partnership deal with Arada to launch three new hotels within Aljada. It will manage three distinctive hotels – the 150-room Address Aljada Sharjah and also the Address Residences Aljada Sharjah; the 175-room Vida Aljada Sharjah along with Vida Residences Aljada Sharjah, besides the 300-room Rove Aljada Sharjah.
Also in Sharjah, Restaurant Secrets, a Dubai-based destination developer and lease management company, is setting up a first-of-its-kind art, food and entertainment hub – Funoon District – on the waterfront with the Al Majaz Amphitheatre as the backdrop. The district is due to be opened to public by the end of this year.
Other projects
• A 45-million-gallons-per-day independent sea water reverse osmosis (SWRO) desalination water project is on the cards for Umm Al Quwain. A consortium led by Saudi-based Acwa Power and Tecton Engineering and Construction is reported to be the preferred bidder for the project. The Federal Electricity and Water Authority (Fewa) was expected to achieve the financial close and ancillary documents in the third quarter of 2018.
• The UAE's Ministry of Climate Change and Environment (Moccae) has signed an agreement with the Fujairah Centre for Adventures (FCA) to build the world's biggest coral reef park in Fujairah.
• The UAE-based Abu Dhabi Fund for Development (ADFD) has approved a $33-million concessionary loan for the development of a waste-to-energy facility in Sharjah. The facility is the flagship project of Emirates Waste to Energy Company, a joint venture between Masdar, a regional leader in renewable energy, and Bee'ah, the UAE's leading environmental management company. Due for completion by early 2021, the facility aims to help attain Sharjah's zero-waste-to-landfill target and the UAE's objective of diverting 75 per cent of its municipal solid waste from the landfill by 2021. Expected to treat more than 300,000 tonnes of municipal solid waste each year, or 37.5 tonnes per hour, the plant will have the capacity to generate around 30 MW of energy.
• The Sharjah Labour Standards Development Authority (SLSDA) intends to establish a commercial centre and a labour recreational park fully dedicated to the blue-collar workers in the emirate. The park and the commercial centre to be built in Sharjah's Al Sajaa Industrial Area will be the first of their kind in the UAE and both the facilities will provide entertainment activities for workers.
More Stories