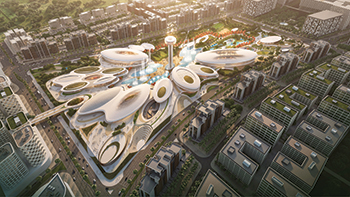 Aljada makes rapid strides
November 2018
Progress on Aljada, Sharjah's largest-ever mixed-use megaproject, has been spectacular ever since its launch last year, with the first main construction contract awarded in July this year followed by one for infrastructure in September.
The mammoth 'city within a city' encompasses an area of 24 million sq ft and is the first of its type in Sharjah, where residents, workers and visitors can live, work, relax and play all in the same space.
"Progress at Aljada has been rapid. After the project's launch in September last year, Arada made its debut at Cityscape Global, the Middle East's largest real estate exhibition, where we sold around 500 units in total,"Ahmed Alkhoshaibi, CEO of Arada, the developer, tells Gulf Construction magazine. "This year, we have even managed to improve on our performance last year, selling 652 units with a total value of Dh545 million ($148.3 million)."
The Aljada masterplan has been carefully designed with walkability and wide green spaces in mind. The $6.3-billion development has exceptional connectivity to surrounding areas, and is an all-encompassing district that comprises considerable retail, leisure and entertainment options, in addition to a wide range of residential and commercial offerings.
Being built in 10 phases, the entire project is scheduled to be completed by 2025.
Progress overview
After the project's launch in September 2017, Arada made its debut at Cityscape Global in Dubai, where the developer sold about 500 units. In October 2017, Arada signed a partnership agreement with Sharjah Electricity and Water Authority (Sewa) to build the first 132-kV substation there – a deal that was followed in January 2018 by the award of the infrastructure design contract to global contracting giant Jacobs Engineering.
In March, Arada revealed the results of a global competition to design the focal point of Aljada, the Central Hub, a new leisure and entertainment destination for the UAE. The contract was won by Zaha Hadid Architects, whose initial design showed environmental considerations integrated throughout the masterplan to minimise the consumption of resources.
"The winning entry conceptualises the first moment a water droplet strikes the Earth's surface, captured in an array of elliptical buildings designed to channel prevailing winds into civic spaces and courtyards to facilitate cooling during the summer months," says Alkhoshaibi.
The final masterplan for the Central Hub will include parks, an edutainment centre for children, a central gathering area with a showpiece water feature, an 11-screen cinema and significant amounts of retail and food and beverage (F&B) space.
Major milestones were achieved in April: the official ground-breaking on the Aljada site was done; Phase Two of the project – East Village – was launched at Cityscape Abu Dhabi; and Arada signed a partnership with Emaar Hospitality Group to build three distinctive hotels – The Address, Vida and Rove – in Aljada. All three hotels are planned for completion by the end of 2022.
East Village is a new creative residential community targeting the younger generation and is expected to be home to students, singles and young couples, as well as those entering the jobs market. It is located close to both Aljada's Business Park, a commercial hub featuring 500,000 sq m of office space that will welcome both multinationals and small and medium enterprises (SMEs), as well as University City, a mega education complex.
Further progress on the development saw Arada award the first main construction contract for Aljada's homes to Modern Building Contracting Company (MBCC) in July. The Sharjah-based contractor is currently building 250 homes in the first four Areej Apartments buildings in Phase One. The same company was awarded the contract to build Phase One of the Central Hub, which will include Arada's experiential sales centre, due for completion in Q1 next year.
September saw Arada announce it would build Sharjah's first ever smart homes as standard across the Misk Apartments buildings in Phase One, offering customers an improved quality of life, convenience and benefiting the environment at the same time.
Also in September, Arada awarded the first infrastructure package to BIC Contracting, for Dh103 million ($28 million). This will be completed in 12 months' time. The total value of infrastructure contracts at Aljada is an estimated Dh1 billion.
Furthermore, during the recent Cityscape Global in Dubai (October 2-4), Arada showcased the final masterplan design of the Central Hub, and also released Sarab Community, a 109-unit collection of townhouses and semi-detached villas in the heart of the project.
Future tenders that can be expected from Arada include construction contracts for the rest of Aljada's Phase One and the first of the Emaar-branded hotels, all of which will be floated in the coming months.
Nasma Residences
Meanwhile, work on Arada's first project, Nasma Residences – which was launched in March 2017 – is progressing well.
A fully self-sustained community spread over a 5-million-sq-ft area in the heart of New Sharjah and including over 800 villas and townhouses, Nasma Residences is designed to provide residents with every amenity, including a sizeable shopping mall, Nasma Square, a 13-acre landscaped park, two smaller neighbourhood parks and a mosque.
Since the project was launched, Arada has confirmed two further outstanding additions to the masterplan: a GEMS international school; and Nasma Souq, a clubhouse with sporting facilities, retail, F&B space, nursery and a clinic.
Ideally located near the junction of Emirates Road and Mleiha Road, Nasma Residences is taking shape next to the upcoming Tilal Mall, Sharjah Convention Centre and Sharjah Botanical Garden and has excellent connectivity with Dubai and other neighbouring emirates.
Enabling works on Nasma Residences began in September last year. The main construction contract for Phase One was awarded to Sharjah-based Intermass Engineering & Contracting, with the company having started work onsite in January 2018. In February, Arada awarded the Phase Two construction contract to two separate companies: Intermass and Klampfer Middle East, a joint venture between Sharjah's Basma Group and KBW Investments.
In March, the developer unveiled a new unit, the Sama Majlis Villa, as part of Nasma Residences' Phase Three. After healthy interest from investors, Arada launched the sale of Phase Four in June this year, when a new collection of homes, Bareem Townhouses, was showcased to the market.
In September, Arada completed its first ever home, a semi-detached villa at Nasma Residences and currently the project's show home. At the same time, the developer announced it had awarded the infrastructure contract for Nasma Residences to Darwish Engineering. Work here due for completion by 2018-end.
As of September end, construction on Phase One – which is due to be finished by the end of this year – had reached 60 per cent, while progress on Phase Two had reached 20 per cent. The entire Nasma Residences community is scheduled for completion by 2019-end.
Future tenders expected from Arada for Nasma Residences include the construction contracts for phases Three, Four and Five of the community.
Buoyed by the success it has enjoyed on its two initial projects in Sharjah, the UAE's new developer is planning to expand into Dubai, and is aiming to finalise its first project outside Sharjah in Q1 2019.
More Stories