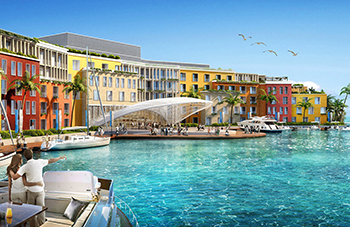 Holiday hubs
In a bid to diversify its oil-reliant economy, the GCC is keenly developing its tourism potential and will soon be adding nearly 180,000 rooms to accommodate international travellers to the region.
November 2018
Recognising the lucrative appeal of their cultural heritage, the sun, sand dunes and beaches, the Gulf states are poised to open their doors even wider to global tourists over the years to come.
Even Saudi Arabia, which hitherto has only been viewed as a hub for religious tourism, is now touting its broader tourism credentials while aiming to keep key tourist dollars at home by creating new mega entertainment destinations, and opening up cinemas, for the first time in 34 years, and leisure centres for its residents. Four massive tourism hubs – namely Neom, a $500-billion smart and tourist cross-border city in the north-west; the Red Sea Project, an ultra-luxurious tourist destination, Amaala, a world-class wellness hub, and Qiddiya, an entertainment, sports and cultural destination – are all earmarked to attract the global tourist.
The region is staging world-class events such as the Expo 2020 Dubai – a six-month-long celebration of creativity, innovation, humanity and world cultures to be held in Dubai from October 20, 2020 – which have been catalysts for growth.
Museums, mega-malls, theme-parks, motorsports, watersports, adventure parks and lifestyle destinations are all springing up to woo both the domestic and the international holidaymakers.
This drive is expected to translate into a surge in hotel construction in the GCC. The region already ranks as the fourth largest hospitality market on the planet, behind the Asia/Pacific region, North America, and Europe, all of which are geographically much larger than the Middle East, according to the projects pipeline of Tophotelprojects, a key database for the global hospitality industry.
The region's pipeline currently has some 618 projects, which will yield a total of 178,288 new rooms once completed, according to figures cited by the database as of July 2018.
STR Global is projecting even higher numbers of a total of 743 hotel projects comprising 206,492 rooms, with 415 under construction (121,233 rooms), 121 in final planning (29,145 rooms) and 207 in planning (56,114). This marks a 27.5 per cent increase compared to figures for July 2017, says the source for premium global data benchmarking, analytics and marketplace insights.
The UAE (222 projects/126,576 rooms) and Saudi Arabia (143 projects/55,810 rooms) are the two most active countries for hospitality development in the Middle East, states another Tophotelprojects report.
Riyadh, Jeddah, Makkah and Al Khobar remain the busiest regions for hotel construction in Saudi Arabia. Each of these cities ranks highly in the Middle East's top ten most active cities for hospitality development, sitting third, fourth, sixth and tenth respectively, it adds.
Notable hotel openings set for the kingdom include: Hilton Riyadh Hotel & Residences; Copthorne Hotel Makkah, Jabal Omar; Swiss-Belhotel Al Aziziya Makkah; and Millennium Hotel Jeddah.
In the report, Hilton has been identified as the brand with the most hotel developments currently under way throughout Saudi Arabia.
Commenting on the Saudi market, Kamel Ajami, vice-president operations (Saudi Arabia and Levant region) for Hilton, says: "Saudi Arabia is one of the most important markets in this region, with new legislation and government reforms making the kingdom more accessible than ever. It represents our largest development pipeline in the Middle East."
"We have 30 hotels currently under development in around 12 different cities and our development team is always on the lookout for new opportunities," he states.
Mövenpick Hotels & Resorts currently operates 11 hotels across Saudi Arabia and has five hotel projects under development in Riyadh, Jeddah, Al Khobar and the industrial city Wa'ad Al Shamal.
According to Swiss-Belhotel International's senior vice-president (operations and development) for the Middle East, Africa and India Laurent A Voivenel, Saudi Arabia's hospitality market is currently undersupplied in terms of hotels.
"The tourism sector has been earmarked by the government as a key driver for growth in the kingdom's Vision 2030 economic diversification strategy, with major initiatives to stimulate the travel and tourism industry," notes Voivenel.
The UAE emirate of Dubai, however, is undoubtedly the tourism hotspot in the region. According to Tophotelprojects database, the hotel project pipeline in Dubai has 155 projects that once completed will yield a total of 48,112 rooms. Of these, 63 per cent – or 97 projects – are currently under construction, seven per cent are in the pre-planning phase, 17 per cent are in the planning phase, and 13 per cent are in the pre-opening phase.
The database shows that 46 per cent of these will be designated first class hotel projects while 54 per cent will be luxury hotels. Unsurprisingly, 83 per cent of these are slated for completion in time for the Expo 2020 Dubai. Some of the mega projects under way include the 45-storey Oyster Resort Dubai, with a total of 1,748 rooms; the 64-storey Paramount Tower Hotel & Residences Dubai; the Taj Arabia Palace Hotel; and the 47-storey Royal Atlantis Resort and Residences.
Trends
In keeping with global trends, the hospitality industry is under pressure to pamper today's traveller with a selection of guest rooms and suite options, uber luxury, advanced user-friendly technology, and choice health and wellness facilities – all this while keeping sustainability and cost-effective operation in view.
To cater to market demands, the region will see the soft launch soon of its first five-star family-only hotel, the Portofino Hotel, on The Heart of Europe, on The World project in Dubai (See UAE Focus, Page 32).
In line with offering uber luxury, the GCC is seeing the emergence of hotels that are designed by renowned brands - the most recent tie-up being between Roberto Cavalli and Damac for the Aykon Hotels in Dubai (See Real Estate, Page 108).
Highlighting a key trend in the hospitality industry, TRI Consulting, a management consultancy firm specialising in the fields of hotels, tourism, leisure and real estate, cites the growth of lifestyle hotels.
The most common elements of a lifestyle hotel are their inclusion of collaborative spaces, cutting-edge design, strong focus on technology, and that they are locally connected, experience-led and individualised, says the company in its industry insight entitled The Rise of Affordable Lifestyle Hotels.
These hotels need to promote a sense of community both in and outside the property. The creation of an internal community (amongst guests) is centred around a collaborative space, an area which attracts different types of guests at different times of the day.
This work-live-play concept is a common feature in new lifestyle hotels and breaks down the traditional barriers of space planning in hotels. However, with all the positive elements of new lifestyle hotels, there is one increasing challenge, the cost of erecting and maintaining such facilities.
Hence, hotel management companies are launching affordable lifestyle hotel brands. These properties retain the key fundamentals of a lifestyle hotel but include a more efficient space design, smaller room sizes, limited services and scaled back technology.
The Middle East presents excellent opportunities for the development of affordable lifestyle hotels, given the young and growing population, strengthening tourism sector and saturated upper-upscale and luxury segments in key cities, the report says.
With over 25 per cent of the population in the region falling under the millennial generation, coupled with 75 per cent of the global workforce expected to be made up with this age group by 2030, investors and hotel operators are focusing on the future with their investment plans.
If the industry is going to keep pace with changing demographics and traveller needs, investors and developers will need to move away from conventional design and hotel brands and look towards lifestyle-orientated midscale properties, the report emphasises.
Investors are taking note. With a wave of recent announcements and the proliferation of new brands entering the region, the new era of hospitality will emerge in the region and continue to challenge the status quo on how hotels are designed, operated and serviced, it concludes.
More Stories