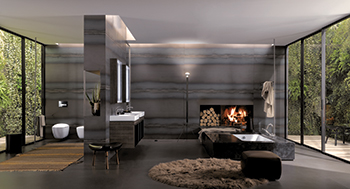 Geberit perfect match for luxury sector
November 2018
In line with its aim to provide inspiring ideas, the Switzerland-headquartered Geberit offers wall-hung sanitary ware with concealed systems that are described as being the perfect match for luxury homes, hotels and health spas.
Today's bathroom needs to be a place of well-being, quality and comfort, rather than the largely practical space of years gone by.
"Luxury homes, hotels and health spas are creating these wellness spaces by specifying systems and products that facilitate this level of comfort while being simple to install and maintain," says Gabriel Nassar, managing director of Geberit's Gulf Office.
Thus, by supplying systems behind the wall and solutions in the front, Geberit says it provides the level of quality and service that is so important for the modern bathroom.
According to Nassar, a clear emerging trend in bathroom design is the move towards wall-hung sanitary ware, and a closer look at its advantages makes it easy to see why.
"Concealing pipework behind a wall creates a simple, uncluttered finish, something which is important in compact bathroom spaces, while with wall-hung the floor is also left visible, for a hygienic finish that also creates the illusion of space," he explains. "For those tasked with fitting out such spaces, these wall-hung solutions are simple to install and simple to maintain, keeping downtime and disruption to occupants' lives to a minimum."
Geberit's Duofix frame system secures wall-hung sanitary ware firmly in place. With the frames simply bolted to the floor and placed either pre- or post-wall, no structural building work is required and a quality job can be completed in a short time-span. These frames are available with different heights and designs enabling installers to meet all kinds of job specifications.
A good alternative to wall-hung sanitary ware is back-to-wall floor-standing ceramics, which again hide all the plumbing work neatly from view.
Moving from behind the wall to the front of the wall, Geberit bathroom ceramics and its stand-alone items are perfectly tailored to the users. There is a design piece for every type of bathroom, says Nassar.
"Geberit Citterio combines puristic contours with organically flowing shapes, resulting in an unmistakable design language," he says. "This premium bathroom series of products with remarkable originality, reflects the unique design hallmarks of the renowned Italian architect and designer Antonio Citterio."
Then there is the Geberit Xeno2 bathroom series, which is synonymous with design minimalism. Clear geometric outer lines are complemented by soft, natural shapes in the inner basin. This combination creates the impression of an inner basin that has been shaped over decades by flowing water.
Meanwhile, the Geberit Acanto range takes everything the modern bathroom has to offer and combines it with timeless beauty and flexibility. With new design possibilities offering individual comfort functions that respond to the user's needs, it provides fully customisable options to help create the kind of bathroom that suits the user's life completely.
On the other hand, the Geberit iCon bathroom series is as multifaceted as individual taste. It comprises an extensive range of ceramic products and bathroom furniture in a clear and modern design language providing maximum design flexibility.
And the Geberit Smyle brings harmony into family bathrooms. With its contemporary design and sophisticated lines, the bathroom series creates a relaxing and positive bathroom ambience, while achieving a heightened level of convenience in any bathroom.
Lastly, Geberit Variform washbasins are the perfect match for cutting-edge bathroom designs. Countertop and lay-on washbasins are available both with and without a tap hole bench. The tap can be installed as deck-mounted on the ceramic or the base panel – or alternatively, as a wall-mounted tap on the pre-wall installation.
All Geberit VariForm models feature a generous basin depth to ensure freedom of movement in ergonomic conditions. Made from high-quality sanitary ceramic, the washbasins are scratchproof and resistant to cracks, as well as easy to care for.
Geberit ensures the ease of installation continues with its installation systems. Using the perfectly coordinated components of Geberit systems, users can develop customised solutions for almost any construction project in front of the wall making installation of toilets and bathroom fittings quick and simple, giving a perfect and professional finish to every job.
"Products are supplied with all the fixings needed for a secure, accurate fit which speeds up the installation process without compromising on the quality of finish in any way," Nassar concludes.
Geberit is a global leader in the field of sanitary products. Its production network encompasses 30 production facilities, of which six are located outside Europe.
More Stories