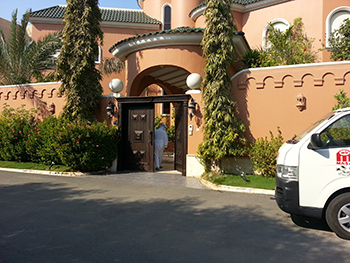 Masa helps tackle the pest threat
An integrated pest management (IPM) approach is the most effective method to prevent and control pest infestation in hotels and luxury residences, says MOHAMMAD ARIF HUSSAIN* of Masa.
November 2018
The hospitality and luxury residences sectors have zero tolerance when it comes to pests. Bird droppings on the pool deck is a problem; mice in the lobby are an embarrassment; cockroaches in the kitchen are a nightmare; and bedbugs in the guestrooms are an absolute disaster.
Hence, pest control is given high priority in these areas. Managers must do everything they can to keep pests away. At the same time, discretion is vital and therefore low-profile solutions that take care of pest problems without damaging the reputation are in demand.
For hotels, proactive and preventive pest control is important, not only because they are more vulnerable to pests but also because their reputation is at stake.
Pest infestation in hotels can occur due to multiple entry points. At the same time, the various departments have different control requirements. For example, housekeeping, restaurant and bar area and hotel maintenance have different expectations from a hotel pest control programme. The cost of preventive pest control measures, however, is not excessive. The key is to recognise the risks and then develop service programmes to curb them, discreetly and effectively.
Pest control operators (PCOs) usually encounter the following pests in hotels, luxury villas, and palaces:
• Cockroaches: These are vectors for dangerous diseases, such as cholera, typhoid and salmonella food poisoning. Cockroaches are lazy pests; seventy-five per cent of their life is spent resting and hiding. They want to live close to food and water sources, and can squeeze through small cracks to get there.
Managing and controlling of cockroaches is not an easy task. Their location needs to be determined first. Sprays alone will not eliminate cockroaches. An integrated pest management (IPM) programme is usually required for effective results.
• Rats, mice and bandicoot rats: Posing a high risk for hotels, these creatures contaminate food and cause damage by chewing on cables and insulation. In garden areas, burrowing especially by bandicoot rats can result in costly damage.
Typically, there are three elements that play a vital role in successful rat control. These include sanitation measures, building construction, and rodent proofing.
• Bedbugs: These small crawling parasitic insects are becoming an ever greater pest problem and are a major issue in hotels in many parts of the world. They are very easily spread but complicated to treat. There has been a rapid growth in bedbug outbreaks in the Middle East and other countries.
Prompt action against bed bugs is key. Early detection and treatment ensures they do not spread to other parts of the building.
• Mosquitoes: These transmit potentially fatal diseases, such as encephalitis, dengue and malaria. The main objective of mosquito management should be to keep population below levels where they become a nuisance or a public health problem leading to disease outbreak.
• Flies: There are few pests as annoying as flies, especially if they are in large numbers. Flies also carry and spread diseases like cholera, dysentery, gastroenteritis, and salmonella food poisoning. A fly infestation can seriously harm a hotel's reputation, especially if guests fall sick after having eaten. Prompt identification of a flies infestation and location breeding sites along with entry points of adults helps in effective control measures.
IPM approach
Both government regulatory agencies and consumers favour the IPM approach because of its reduced risk to non-target organisms, minimal intrusiveness and improved long-term results. IPM combines intelligent decision-making with a variety of preventive and corrective measures to reduce pests. The method does not rely exclusively on the use of conventional insecticide sprays.
Insects such as cockroaches and ants often cannot be eliminated quickly due to population size, biological characteristics and instinctive behaviour for self-preservation. And so IPM can prove effective here.
IPM methods may or may not eliminate pests quickly; however, they can yield more enduring results in the long run than non-targeted, copious pesticide applications. Using repellent residual insecticides gives a false impression that the pest problem is being solved. Often, insect survivors escape the treatment zone and either remain concealed until pesticide residues break down or they invade new areas of the building.
The IPM programme is perfect for such sensitive environments as it uses all available measures to control pests according to their nature and the location to be treated, with a focus on non-toxic methods of control.
Clear instructions are given to a client on preventive sanitation measures, on the best ways to store food and the dispose of rubbish, as this helps to reduce the harborage areas and limit food sources for pests inside the premises.
Masa Establishment for Pest Extermination, Maintenance and Contracting has been protecting hotels, luxury villas and palaces and other commercial properties against pests for over 38 years now. Its staff are trained, certified and insured for this particular kind of work. Furthermore, Masa has gained a niche in the pest control industry by strict observance and maintenance of high-quality service standards. A member of 12 international pest control associations, Masa exerts every effort to increase public awareness of the pest hazards in premises and urges the public to cooperate with professional pest control operator sto maintain a healthy environment.
* Mohammad Arif Hussain is an entomologist at Masa Establishment, a 100 per cent Saudi company under the full ownership of Mousaied Shieshakly.
More Stories