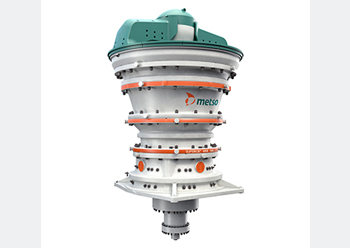 MKIII is first high-speed primary crusher
November 2018
Finland-based Metso says that its new Superior MKIII is the world's first high-speed primary gyratory crusher to deliver up to 30 per cent higher capacity and 70 per lower downtime in a comminution circuit.
Based on Metso's industry-leading crushing technology, the gyratory crusher provides a significant performance leap in gyratory crushing by enabling a low cost per tonne through energy efficiency, durability and optimised crusher performance, says a senior official for the company.
"Our mining customers are facing increasing pressure to optimise capital expenses and improve the efficiency of their comminution circuit. With the new MKIII, we are addressing these challenges directly by offering peak performance and maximum throughput, while reducing the cost of primary stage infrastructure," says Guillaume Lambert, vice president, mining crushers at Metso.
Designed for the most demanding primary crushing conditions and with the new, patented SmartStation for optimised production, the Superior MKIII brings a whole new level of cost-effectiveness and reliability to operations, he claims.
"The MKIII is the first high-speed primary gyratory crusher on the market, surpassing traditional primary gyratory crushers by up to 30 per cent in speed, thus having a 30 per cent higher capacity. The rotable top shell ensures safe maintenance and reduces downtime by up to 70 per cent. In addition, the MKIII can be paired with the Metso Metrics solution for predictive maintenance and online asset management," Lambert explains.
The MKIII is the third generation of Metso's trusted primary crushing technology and it has been developed in close dialogue and cooperation with our customers. "With the Superior MKIII, it is possible to use smaller machines to achieve the same highest-duty performance, making it the most capex-efficient technology on the market for the primary stage," Lambert concludes.
Metso is a world-leading company offering equipment and services for the sustainable processing and flow of natural resources in the mining, aggregates, recycling and process industries.
More Stories