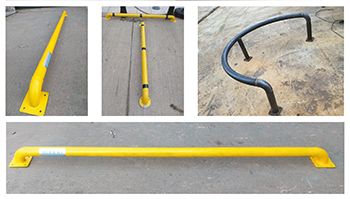 Paras brand gains popularity
November 2018
Paras Scaffoldings and Formwork Accessories Company, which intends to boost its presence in the Middle East, is actively looking for business partners to promote its high-quality systems in the Gulf region.
The Turkey-based company has nearly 10 years of manufacturing experience and 30 years of expertise in the construction, scaffolding, formwork and facade sectors.
According to the company's general manager Mustafa Demir, Paras' innovative scaffolding and formwork systems have become a popular brand in the Gulf region due to their easy assembly and disassembing advantages even in high-rise construction.
Thanks to developing technology, scaffolding and formwork systems offer builders safer and faster construction solutions.
The company realises, however, new systems must be introduced to keep pace with technology. In line with this, Paras has introduced a number of new products including the moving spindle as well as a parking stop bar for car-parking areas and for fuel stations.
Paras produces several product lines, with its scaffolding and formwork systems being manufactured according to EN standards using CE-certified raw materials. Among the products it offers are scaffolding and formwork accessories, security jetties, table-type scaffolding, telescopic construction poles, mobile scaffolding with wheels, steel curtain belts, articulated belts, girder joints, brackets and pillar bases.
Demir advocates the use of the rental option as a way of ensuring access to the latest solutions and certified products. "Renting is sometimes more attractive than buying when it comes to scaffolds and formwork. "Companies that specialise in this field can rent their products at very reasonable prices and offer guaranteed quality," he said.
Founded in 2016, Paras Scaffoldings has a 2,000-sq-m production facility, 900 sq m of which is covered. It currently employs 25 people.
Although its customers are mainly scaffolding and formwork manufacturers, it also supplies to rental companies, construction companies and subcontractors.
Paras has already sold to many building insulation installers and curtain-wall fabricators in Hungary and Romania, and now intends to penetrate the African market as well as make export connections in China and India.
To boost its international presence, Paras participates in many exhibitions in Europe and the Middle East and will exhibit at Gulf Construction Expo in Bahrain next year.
More Stories