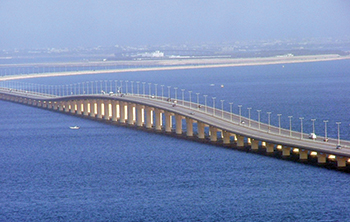 Consultancy bids soon for $4bn causeway
November 2018
Consultancy bids for the King Hamad Causeway, a 25-km-long strategic artery linking Bahrain with Saudi Arabia to be built at an investment of $4 billion, are expected to be issued this month (November), while the main construction work will be tendered by the end of 2020, said a report.
The new causeway, which is set to run parallel to the existing King Fahad Causeway, will carry passenger trains, freight trains and vehicles, reported BNA.
The project will extend 75 km in both countries, including the 25-km span of the King Hamad Causeway over the sea.
The causeway, which will be part of the proposed GCC Railway, will ease traffic pressure on the existing causeway and boost trade exchanges, stated the report.
The consultancy bids will be issued in co-ordination with the Saudi Arabian Transportation Ministry and the King Fahad Causeway Authority and will include a financial outline for the project, which will be financed in partnership with the private sector, reported the Gulf Daily News, our sister publication. The winning bidder will be announced in the first quarter of 2019, it stated.
As per a feasibility study, the project will provide considerable financial and economic benefit for both countries once it becomes operational, said the report citing the Deputy Premier Shaikh Khalid bin Abdullah Al Khalifa.
King Hamad Causeway is one of Bahrain's most important strategic projects, that boosts the historic brotherly ties with Saudi Arabia and supports the Gulf infrastructure development and logistic services, especially passengers and cargo transportation, said Shaikh Khalid, who is also chairman of the Ministerial Committee on Construction and Infrastructure.
Transportation and Telecommunication Minister Kamal Ahmed said in a presentation at a ministerial committee meeting that work on the causeway was set to begin within two years.
"The causeway will cost $4 billion and will be financed in partnership with the private sector," he added.
Ahmed said the causeway will include four lanes for vehicles and two railway tracks – with the railway linking the cargo section in the Khalifa Bin Salman Port in Hidd with the passenger terminal in Salmabad, which would be constructed at a later stage, and onward to destinations in Saudi Arabia.
"The consultancy will determine the financial outline and the best direction for financing and partnership with the private sector, while arranging all documents for the company that would start work in the end of 2020," said the minister.
The GDN has quoted the Transport Minister as saying that work was ongoing to appoint a transactional adviser, which would prepare tender documents.
"We have completed the financial and technical feasibility study on this project and will appoint a transactional adviser to prepare tender documents that could take about two years," said the minister.
More Stories