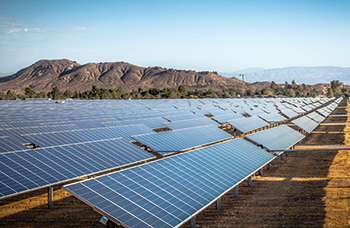 Oman to develop $1.6bn solar projects
November 2018
Oman is planning to develop four utility-scale solar-based projects worth RO616 million ($1.6 billion) at key locations across the sultanate over the next five years, said a report.
These renewable energy projects will boast a total capacity of 1,600 MW, reported the Oman Observer.
These commercial utility-scale solar photovoltaic (PV)-based schemes are key to accelerating Oman's transition away from gas-based electricity generation, it stated, citing a report by the Implementation Support and Follow-up Unit (ISFU), a task force operating under the auspices of the Diwan of Royal Court with the mandate to drive the sultanate's economic diversification strategy.
In order to achieve the goal of a power source mix away from conventional fuel, the sultanate can leverage its solar energy as one of the main resources to generate power, the report said.
The first independent power project, sized at around 500 MW, will come up in Ibri by 2022. This will be followed by 'Solar 2022' and 'Solar 2023', each of 500 MW, and due to come on stream by 2022 and 2023 respectively.
Earlier last month, Oman Power and Water Procurement Company (OPWP) announced plans to launch the sultanate's second utility-scale solar power plant with a 1 gigawatts (GW) capacity in the Dhahirah governorate of the sultanate, according to a report.
The sole procurer of new power and water capacity, OPWP said the new solar PV-based independent power project will be due for commercial launch in 2022, reported Oman Observer.
The Solar 2022 IPP, as the new project has now been named, is expected to be implemented alongside Oman's maiden commercial-scale solar, dubbed 'Ibri II Solar IPP', at Ibri in Dhahirah Governorate.
The last date for submitting the bids was October 22 and the project will be awarded by the year-end. The commercial launch of the 1 GW project is slated for 2021, stated the report.
OPWP aims to procure more than 2,600 MW of renewables-based power generation capacity by 2025, in line with a commitment to ensuring that renewables account for at least 10 per cent of total generation capacity, it added.
More Stories