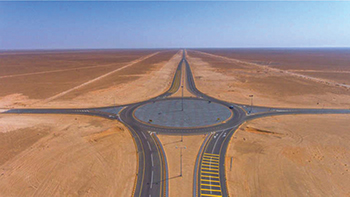 Oman-Saudi road set for completion
November 2018
Oman and Saudi Arabia are racing to complete the work on the first-ever direct land link between the two neighbouring countries by the end of this year, said a report.
The project has been termed as an "engineering marvel", having been built through the sands of the Empty Quarter, reported Times of Oman.
More than 130 million cu m of sand were removed as the sultanate gears up to open the 680-km-long route to the public, said the report, citing the Saudi ambassador Eid Al Thaqafi.
"It's about to be completed. There were some delays in road works. From the Omani side, the road work has been completed as the distance is shorter compared to the Saudi Arabian side. For the Saudi side, the road passes through a very tough geographical area, which is the Empty Quarter," explained Al Thaqafi.
Presently, the quickest route between the two countries is the 1,638-km-long road passing through the UAE which takes about 16 to 18 hours. Once the new road opens, it is expected to save more than 800 km of the journey, said the report.
In Oman, the road begins from the area of Tanam in Ibri, continuing through the oilfields until it reaches the Empty Quarter, where the Oman-Saudi border is located, it added.
More Stories