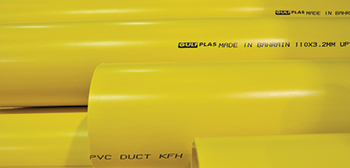 Gulf Plastic enhances response time
November 2018
Bahrain-based Gulf Plastic Industries (GPI), which this year marks its 50th anniversary, said it keeps ahead of its league by anticipating market demands and cutting down on customer response time.
GPI is a leading manufacturer of thermoplastic pipes and fittings made of uPVC (unplasticised polyvinyl chloride), cPVC (chlorinated polyvinyl chloride), PPR (polypropylene random copolymer), LDPE (low-density polypropylene) and HDPE (high-density polypropylene). It claims the distinction of having been the first plastic processor established in the Middle East and is presently located in Bahrain International Investment Park (BIIP) over a total plot area of 30,000 sq m.
About 30 per cent of its products are supplied to the local market and 70 per cent to the neighbouring countries, including Saudi Arabia, Kuwait, Jordan, Iraq, Oman and Pakistan.
The ISO 9001:2015-certified company constantly strives to maintain its reputation as a successful, responsive and dynamic organisation in the thermoplastic pipes industry, according to Pascal Dufrasne, the company's recently appointed general manager.
GPI was formed in 1968 by Ahmed Al Zayani as a forward-focused company that aims to offer superior quality products to the local and international markets.
"GPI operates with the core values of serving with integrity, providing exceptional customer services, working toward win-win solutions and growing through innovation and creativity," said Dufrasne, who has brought with him unique insights into the administration and operation of the company and guides its development.
He said the company realises that customers are the lifeblood for any business.
"Without satisfied customers, your business is worthless. Thus, GPI is now focusing on easing customer access to the company by applying effective strategies and using new technologies across its entire supply chain to minimise the customer service journey as much as possible," said Dufrasne.
Referring to the company's future plans, he said GPI is considering participating in exhibitions outside Bahrain to expand its business scope.
GPI has made major contributions to a variety of projects in Bahrain, including Khalifa Bin Salman Port in Hidd, Bahrain Financial Harbour, Bahrain World Trade Centre, Amwaj Islands, and government housing and road infrastructures projects.
GPI also keeps a keen eye on the requirements of the Saudi construction sector and supplies various types of pipes and fittings to several projects, such as those for Saudi Aramco, Khursaniyah Power Plant, Qatif Gas Plant, and Jubail Industrial Chemical Company.
More Stories