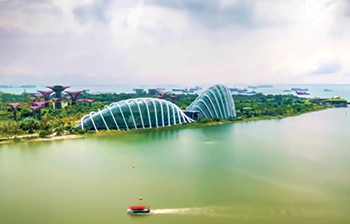 Construction to start on $500bn Neom
November 2018
Neom, an ambitious project to be built in northwestern Saudi Arabia on the Red Sea coast, has entered the first phase of actual development after preparation works to develop the infrastructure of the first residential area was accelerated.
Nadhmi Al Nasr, chief executive officer of Neom, said preparations are ongoing and progressing significantly to start the construction work at Neom Bay, a luxurious touristic destination. It will be the first urban area to embrace the future population in Neom. It is planned to be one of the most attractive destinations worldwide for investments and sustainable economic development, a Saudi Press Agency report said.
Al Nasr noted that the pace of project development is "greater than expected." The CEO also stated during the Future Investment Initiative in Riyadh last month that Neom focuses on human and technological advancement to create a unique sustainable environment.
Moving to the challenges facing the project, the CEO added: "We are aware of the challenges we face in developing a mega project such as Neom as it will be the largest international special zone in the world in terms of size and scale of investments. However, our capabilities backed with strong political, financial and logistical support will enable us to achieve what we plan for, especially that we are dealing with a greenfield project in an untouched land."
Work on the first airport in Neom is expected to be completed before the end of 2018 with flights to and from Neom scheduled in early 2019.
His Royal Highness Prince Mohammed bin Salman bin Abdulaziz, Crown Prince, Vice President of the Council of Ministers and Minister of Defence, announced on October 24 last year in Riyadh during the first edition of the Future Investment Initiative (FII) the launch of Neom project on more than 26,000 sq km of land.
The project is backed with more than $500 billion that will be provided by the Saudi Arabian government, the Public Investment Fund of Saudi Arabia, as well as local and international investors.
Neom has already constituted its global advisory board comprising experts from several major sectors including urban planning, architecture, design, technology, sustainability, energy and manufacturing.
More Stories