Saudi Focus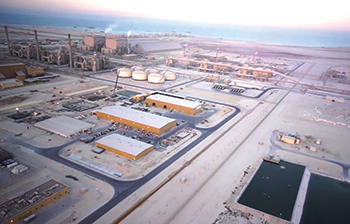 $892m Ma'aden plant gets go-ahead
November 2018
South Korea's construction giant Daelim Industrial Company has been awarded a SR3.4-billion ($892 million) contract by Saudi Arabian Mining Company (Ma'aden) to build the first plant in its third large-scale phosphate complex (Phosphate 3) in the kingdom.
As per the deal, Daelim Industrial Company and Saudi Daelim will jointly carry out the engineering, procurement and construction (EPC) services for the development of the 1.1-million-tonne-per-annum ammonia plant in Ras Al Khair area on the eastern coast of Saudi Arabia, said Saudi Ma'aden.
The project will be implemented over the next 38 months, it stated.
The move is aimed at boosting Ma'aden's phosphate production capacity to nine million tonnes, thus securing the kingdom's global position as a top phosphate producer and exporter, remarked Ma'aden president and CEO Darren Davis after signing the agreement with Daelim Senior Executive vice-president and CEO Heon Jae Yim at the Ma'aden headquarters in Riyadh. This is the first of the Phosphate 3 plants to begin construction. The entire project is expected to cost SR24 billion ($6.4 billion).
More Stories