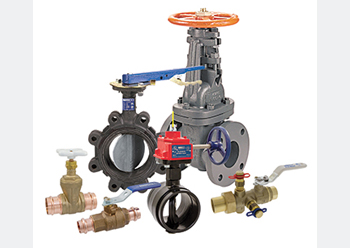 Nibco leads in the lead-free valve sector
November 2018
Designers of high-profile commercial projects in Saudi Arabia are specifying lead-free bronze gate and ball valves manufactured by US-based Nibco, said its distributor in Saudi Arabia Universal Building Materials Merchants Company (UBM).
"Nibco has supplied a full line of valves for plumbing, HVAC (heating, ventilation and air-conditioning) and fire protection applications, including gate, check and ball valves for potable water plumbing applications, as well as a line of copper and plastic fittings," explained Khaled Adham, senior regional manager at UBM, a Nibco trading partner in the Middle East for over 35 years.
The lead-free valves are increasing in popularity in the Middle East for health reasons, he added.
Nibco lead-free bronze gate and ball valves have been specified on premier projects in Saudi Arabia, including the new $9.6-billion King Abdulaziz International Airport in Jeddah, which has been designed to accommodate 80 million passengers a year. The 7.2 million-sq-ft complex also includes a high-speed rail station, shopping centres and a five-star hotel.
These lead-free bronze valves have also been specified for the Riyadh Metro project.
Nibco became a leader in lead-free valves with the introduction of new alloys, such as silicon-based HydraPure Performance Bronze. The silicon-based alloy offers technical attributes that far exceed traditional plumbing alloys, said a spokesman for UBM.
"HydraPure Performance Bronze boasts superior heat tolerance, strength and corrosion resistance, and sets silicon-based bronze alloys apart from other lead-free materials. Silicon adds significant strength to copper alloys, and elemental silicon melts at a temperature of 2,572 deg F (1,411 deg C). Due to the high melting point, the silicon-based alloy is not affected by solder installation or high-temperature service, and it can be brazed with confidence," he added.
Once designers began requiring lead-free plumbing products in their specifications, contractors were required to purchase and install them. Hence, Nibco was the first to offer a lead-free line of bronze valves in the Middle East, gaining recognition as the leader in flow control products.
"Engineering firms began specifying valves that complied with the American lead-free law (which was enacted in January 2011) for projects in Saudi Arabia," the spokesman said.
Among Nibco's popular products in the region is the T113-LF lead-free, non-rising stem, threaded gate valve that carries a pressure rating of 300 PSI/20.6 bar non-shock cold working pressure. The valve features a screw-in bonnet for service where infrequent maintenance is required.
Non-rising stem gate valves are used when space-saving is necessary. This gate valve is constructed of the high-quality lead-free dezincification-resistant silicon Performance Bronze alloy as per ASTM specifications.
Nibco also supplies a line of press-connect ball valves – the PC113-LF series, with a maximum working pressure/temperature of 180 PSI at 200 deg F. Both the T113-LF and the PC113-LF series valves have been tested and certified to NSF/ANSI 61-8 and 372, and conform to MSS SP-139.
More Stories