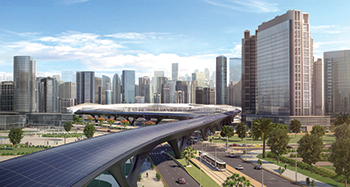 Dar Group signed up for Abu Dhabi Hyperloop
November 2018
Hyperloop Transportation Technologies (HyperloopTT) has appointed leading design and engineering firm Dar Al Handasah to assist in bringing the Abu Dhabi Hyperloop commercial system to reality.
Dar Al Handasah, the founding member of the Dar Group, an international consortium of professional service firms, joins the project as design lead and as the latest investor in HyperloopTT. Its team includes Dar Group members: Perkins+Will (architects, US), TY Lin International (engineers, US), GPO Group (engineers, Spain) and Currie & Brown (cost management consultants, UK).
An innovative transportation and technology company based in the US, HyperloopTT is focused on realising a system that moves people and goods at unprecedented speeds safely, efficiently, and sustainably, said the company. Through the use of unique, patented technology and an advanced business model of lean collaboration, open innovation and integrated partnership, HyperloopTT is creating and licensing technologies, it added.
Earlier this year, HyperloopTT had signed an agreement with leading Abu Dhabi developer Aldar Properties, which, when executed, will allow for the creation of a new HyperloopTT centre including: a full-scale commercial Hyperloop system, an XO Square Innovation Center and Hyperloop Experience Center.
Construction of the Hyperloop commercial track as well as HyperloopTT's XO Square Innovation Center and Hyperloop Experience Center is likely to begin in the third quarter of 2019.
The proposed site within Aldar's Seih Al Sdeirah landbank is also conveniently located on the border of Abu Dhabi and Dubai, close to the Expo 2020 site and Al Maktoum International Airport.
"With the announcement of the appointment of Dar Al Handasah, Perkins and Wills, and Currie and Brown, we have achieved a significant milestone towards the construction of the world's first commercial Hyperloop system in Alghadeer," said HyperloopTT CEO Dirk Ahlborn. "We are looking forward to working with all of our regional stakeholders to build this historic piece of transportation infrastructure."
More Stories