UAE Focus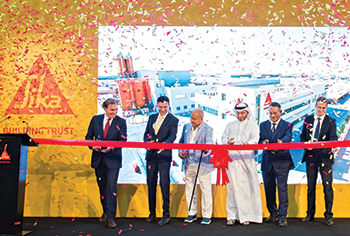 Sika opens hi-tech factory in Dubai
November 2018
Sika, a global leader in chemicals and building materials, has officially inaugurated its state-of-the-art production facility along with the offices in Dubai as part of its regional expansion strategy.
With a 240,000-tonne annual production capacity, the new facility will allow the production of high-performance concrete admixtures and will play a strategic role as a key sales and distribution centre for the region, said the Swiss company.
The factory, located at Dubai Industrial Park, has been built at a total investment of around Dh40 million ($10.8 million). It is also designed to ensure a high level of productivity and quality consistency through a fully automated system and an advanced technical training centre.
The official opening ceremony was held in the presence of senior company officials including Ivo Schädler, the regional manager for Europe, Middle East and Africa (EMEA), Abdullaziz Zaidan, the chairman of Sika (Arabia), Saud Abu Al Shawareb, the managing director of Dubai Industrial Park and Chris Watts, consul general of Switzerland.
Schädler said: "Sika's new facility in Dubai Industrial Park is constituted as our strategic production, distribution, and sales centre for the entire GCC area, creating the ideal conditions for further developing our growth potential in these booming markets."
More Stories