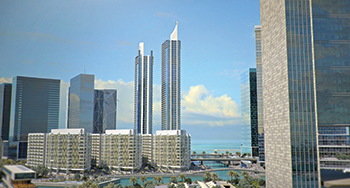 Top project to debut at Gulf Property Show
November 2018
Golden Gate Developers, a joint venture between Kooheji Golden Gate and Indian real estate groups Ajmera Realty Group and Mayfair Housing, will be showcasing its $212-million twin residential tower project at the Gulf Property Show's mall event at The Avenues, Bahrain this month.
To be held from November 21 to 24, the Gulf Property Show will have on display the best of real estate projects in the region, said the event organiser Hilal Conferences and Exhibitions (HCE).
The mall event is a dedicated boutique showcase that complements the annual flagship expo taking place in April 2019.
The Golden Gate project, comprising two towers scaling 45 and 53 floors respectively, is poised to become the highest residential tower in Bahrain, it stated.
Chairman Ishaq Al Kooheji said: "Bahrain Bay is an attractive central Manama location for investors. The Golden Gate development is looking to create a residential opportunity for buyers and investors."
With 140,000 sq m of built-up space with stunning views, the premium development will provide residents luxury canal and seaside living, easy access to a wealth of amenities and nearby links to both local and international transport connections, he stated.
Mayfair Housing chairman Nayan Shah said: "This project is part of our ongoing strategy to invest in Bahrain's economy through the kingdom's promising real estate sector."
Group managing director Manoj Ajmera said: "Our vision for Golden Gate was to create a realty landmark within Bahrain Bay, that offers the people a bridge to the pleasures of what Bahrain offers. We look forward to launch Golden Gate at Gulf Property Show at The Avenues, Bahrain."
Jubran Abdulrahman, the managing director of HCE, said: "Gulf Property Show is the home for Bahrain and international real estate developers to promote their unique developments."
"Golden Gate provides an exceptional opportunity to be a resident in one of 746 residential innovative and luxurious units, the benefits of which will be on show for all to experience at our event at The Avenues, Bahrain," stated Abdulrahman.
Gulf Property Show at The Avenues, Bahrain carries the strategic sponsorship of El Mercado (First Bahrain). Supporting organisations include the Real Estate Regulatory Authority (Rera).
More Stories