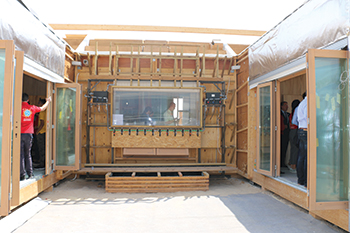 Baitykool vies for solar award
November 2018
Baitykool, an innovative solar house prototype project developed by university teams from the UAE, Palestine, and France, is in the race for the Solar Decathlon Middle East 2018 Awards being held in Dubai from November 14 to 29.
Developed in collaboration with students from Amity University (Dubai), Bordeaux University (France), Arts et Métiers School Ensam (France), Architecture and Landscape, School of Bordeaux EnsapBx (France), An Najah National University (Palestine) , the project Baitykool is a multi-family housing unit for extremely hot climates, adaptable in different shapes (co-living, co-working) in a densely populated urban area and with a bioclimatic architecture.
The project is being backed by Business France, the national agency supporting the international development of the French economy along with the French Embassy in the UAE.
Baitykool competes among 21 university teams selected at this international student concourse and aims this year to play a leading role in this competition against teams from all over the world.
The Solar Decathlon Competition, created in the US in 2002, combines architecture, engineering and technological innovation for green building development. The main objective of this contest is to design the prototype of an ecological dwelling while respecting several criteria and rules defined by the organisation.
The finalists compete on 10 requirements, namely: innovation, engineering and construction, sustainability, architecture, house functioning, energy management, sustainable transportation, communication, comfort conditions, vegetation and hardscaping.
The 2018 edition of the Solar Decathlon has the distinction of being held in Dubai.
Baitykool is a complete energy solution system involving the foundations of renewable energy, water usage and storage considerations. The prototype adapts itself to the humidity of air, the cold night sky radiations, solar radiations, while capturing the essential energy. Baitykool's solution takes into consideration the whole environment of the site and the ecology into the heart of the dwelling, resulting in natural lighting, soil to generate food production and water recycling.
The prototype being built in the UAE on the Amity University campus has been developed to solve the problem of the heat of Dubai by offering the best possible comfort to people throughout the day and throughout the seasons.
More Stories