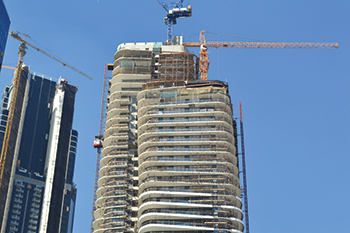 Walltech scales new heights
UAE-based Walltech has taken on some of the challenging facade projects in the region and says it has the experience and expertise to handle any architectural complexities of today's striking high-rises.
December 2018
Wall Technology (Walltech), a Dubai-based specialised manufacturer and contractor of architectural aluminium and glass systems, is looking to scale new heights – literally – having already clinched some of the landmark projects in the UAE that highlight the growing confidence clients have in its expertise and commitment.
"We are looking for challenging opportunities for design, procurement, fabrication and installation of facades for super- and mega-tall buildings," Ahmad AlHadithi, CEO of Walltech, tells Gulf Construction.
Walltech was established over 13 years ago to provide a complete architectural aluminium and glass one-stop solution provider. The full-service contractor provides engineering, design, fabrication and installation services for architectural aluminium, steel, glass and related products for all types of buildings. Walltech is the exclusive agent in the UAE for European Facade Products (EFP) of the Netherlands and also fabricates systems for a number of global aluminium solutions providers.
"Walltech is committed to the highest standards of business excellence and professionalism. Our core values, corporate culture and superior service set us apart from many other firms, and foster strong relationships with our clients," says AlHadithi. "Our employees work hard and diligently to continue making Walltech a successful company in an increasingly competitive market."
"We strive for exceptional customer satisfaction, which occurs when we deliver more than what our customers expect," he adds.
Some of Walltech's more challenging projects that are nearing completion in Dubai are the DIFC Gate Avenue, RP Heights and Expo 2020 Thematic Districts.
All these projects are making good progress and are expected to be handed over this year, says AlHadithi.
DIFC Gate Avenue, set to bring a new retail and fashion experience to Dubai, is an 880-m-long walkable destination, including an outdoor promenade, which will provide seamless connectivity with all the building podiums within the district, from the Gate Building in the north to Central Park Towers in the south.
For this prominent project, Walltech was extensively involved in carrying out a variety of components including the access node façades, stick curtain-walling, spine skylights, perforated screens, boomerang canopies, swing doors, windows, performance louvres, cladding, revolving doors, lift and mosque glazing, stainless steel mesh, fire-rated aluminium composite panel (ACP) cladding, aluminium expanded mesh, point-fixed glazing, glass balustrades, and kiosk and container glazing, says AlHadithi.
Highlighting some of the design intricacies involved in undertaking these elements, he says for the access node glazing and roof cladding, the challenge was in designing the hanging steel structure to support three floors of U-channel glazing as interlocking. The cast U-channel glass was procured from Germany.
"Another challenge was the design geometry of the steel columns to support the boomerang canopies. Designing the steel and glass to obtain the spine skylights' desired geometrical shape was also a challenge as was the water feature on top of the skylight glazing," he explains.
Meanwhile, the glazing cube for the escalator enclosure had to be designed with minimum steel structural support, he adds.
Turning to RP Heights, a 50-storey residential tower in Downtown Dubai, he says, Walltech had to design the perforated sheet cladding for the five podium floors to comply with the wave design. Also challenging was the design of the curtain-wall and the cladding with balustrades to conform to the unique geometry of the building. The apartments of this architecturally striking tower boast panoramic views of the city's skyline from the continuous balconies that wrap around the recessed glass façades and are incrementally rotated to give the building a dramatic curved and twisted outline.
The project involves more than 50,000 sq m of curtain-walling, doors, windows, ACP cladding, glass balustrades and perforated cladding.
For the Expo 2020 Thematic Districts, Walltech has provided glazed aluminium doors and windows, curtain-walls, ACP cladding and fire-rated steel doors for 53 buildings in two districts.
Other projects that are in the finishing stages are the Al Qasimia University Waqf Tower in Sharjah, which is now being handed over, and a residential complex for Mohammed Bin Rashid Housing Establishment (MBRH) in Dubai, which is scheduled to be handed over this year.
Meanwhile, Walltech continues to add prestigious projects to its growing projects' portfolio with recent contracts including the Harbour Gate on Plot A.030 at the Dubai Creek Harbour for Emaar, the main contractor being Trojan, and the Hampton Hotel & Residential Building in Dubai for Al Wasl, the main contractor for which is Belhasa Engineering & Contracting Company.
Walltech has just started work on its aluminium and glazing contract for the Harbour Gate, which is located on The Island District, will enjoy panoramic views overlooking Dubai's upcoming icon The Tower, the marina and surrounded by lush green parks.
Other ongoing projects on which Walltech is engaged are the Park View Residential Tower in Abu Dhabi, Muhaisnah Community Housing in Dubai, and Al Zahya Developments, Phase Three, in Sharjah.
Apart from projects in the UAE, Walltech has extended its expertise to Saudi Arabia, where it was involved in the distinctive King Abdullah Petroleum Studies and Research Centre (Kapsarc) in Riyadh,
"Our efficient and highly experienced architects were able to model the facade elements in 3D using the latest CAD software. This enabled us to produce the panels to utmost precision using CNC machines," he says.
Established in 2006, Walltech has a purpose-designed facility with a huge fabrication and logistic centre at Al Quoz in Dubai. The company can provide a comprehensive range of design and fabrication services required for unitised and stick curtain-walls, skylights, doors, windows, revolving doors, louvres, cladding, glass partitions, point-fixed glass walls, balustrades, handrails, stairs, pergolas, claustra and mashrabiya.
The company is certified to ISO 9001, ISO 14001 and ISO 18001 standards and ensures it meets total customer satisfaction, and statutory, health and safe working environment and global sustainability requirements when carrying out its projects.
Its engineering teams are trained in the US in the installation of fire-stop systems.
"Firestops can be designed by our engineers complying with the UAE fire codes using municipality approved/certified materials for the required fire rating. Such details will be reviewed by manufacturers of the material for system performance compliance," says AlHadithi.
In addition, Wallech also employs third-party experts to review its shop-drawing details for individual projects. "They inspect the works on site at regular intervals during installation to ensure that they are carried out as per the approved design and complying with the UAE fire codes," he says.
Walltech closely works with clients, architects and contractors at the onset of every project to ensure proper planning and determine the most effective method of project completion.
Currently, the company is mainly targeting projects in the UAE, where it offers a wide range of design, fabrication and installation services but it has the capability to undertake jobs requiring design and fabrication services anywhere in the world. Its top management team boasts three decades of experience in the UAE related to facades of tall buildings most notably the Burj Khalifa.
More Stories