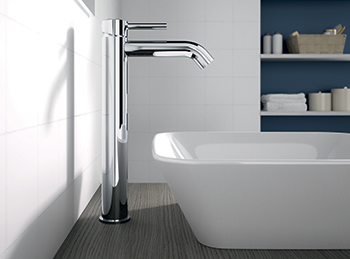 Ceraline is singular cylindrical attraction
Ideal Standard has launched a number of trendsetting bathroom fittings that meet the market's aesthetic and functional demands.
December 2018
Ideal Standard's new 'Ceraline' range of bathroom mixers is a true trendsetter, says the leading provider of innovative bathroom solutions that operates across Europe, Middle East and Africa.
These cylindrical beauties champion innovation, functionality and sturdiness in every bathroom, while retaining the high quality standards that are common to all Ideal Standard products, the company says.
Ceraline was among the latest products that Ideal Standard showcased at the Downtown Design 2018 trade fair held recently in Dubai, UAE.
Other products included the Strada II stylish and versatile ceramic range, Edge mixers, along with Ipalyss vessels and Idealrain Evo showers.
Its novel 30-sq-m stand at the fair was divided into four distinct areas – three were dedicated to product display, while the fourth added to the interactive feel at the exhibition by accommodating a virtual reality (VR) experience.
Using a VR kit, visitors had the opportunity to experience a fully-equipped virtual Ideal Standard bathroom, and walk through it while examining the world-class solutions on offer.
"The Ceraline range follows a cylindrical design pattern – a prominent present-day trend in the UK, Europe and the Middle East," says a spokesman for Ideal Standard. "Its cylindrical shape provides a soft and stylish elegance for the entire collection – while being versatile too."
The range covers the gamut of requirements, comprising six different basin mixers – both rim-mounted and built-in – and bidet, bath and shower mixers that are wall-mounted and built-in.
"No matter the type of installation or stylish choice, there is a Ceraline mixer that will fulfil aesthetic and functional demands and will realise the ideal bathroom," the spokesman adds.
In line with Ideal Standard's commitment to environment-friendliness, the aesthetic Ceraline range incorporates impressive water-saving and safety features, providing a reliable solution for the bathroom.
Elaborating on these features, he says: "Basin mixers are equipped with a five-litres-per-minute aerator that reduces water consumption with no loss of flow, to perform in the most demanding environments, while reducing the bill. The shower and bath and shower, exposed and built-in, mixers are packed with Click technology, giving the option of using the fittings at 50 per cent of their capacity, thereby achieving 50 per cent less water consumption.
"Hot water limiter is a safety characteristic that ensures quick and easy control of maximum water temperature for ultimate safety. This allows the user to choose the maximum temperature and thus avoid the risk of scalding, which is important especially for kid users."
Another key benefit of the Ceraline range is its hassle-free and seamless installations. It uses the EasyFix system, which is a single stainless steel bolt that secures and centres the rim-mounted mixer automatically. All components come pre-assembled to save time.
"Ceraline's innovative water-saving features make it environmentally sensitive, and its ergonomic design adds aesthetic pleasure as well as practicality to any space it is adapted to – be it a home, an office, a hotel, restaurant, mall, or any other public space.
"Ceraline represents a wide range of quality fittings compatible with Ideal Standard's ceramic sanitary ware. This makes incorporating Ideal Standard's products into renovations as well as new constructions super easy and provides users harmonious and symmetrical bathroom spaces," the spokesman points out.
Meanwhile, the Strada II ceramic range which was also displayed at the Downtown Design 2018 trade fair offers a soft, light design in line with current tastes and trends.
Created by leading industrial designers at Studio Levien, it consists of a flexible basin range, with options to fit every design scheme in a range of sizes and models.
Ideal Standard also brought to the fore the winner of German Design Award 2019 Edge - its new minimalistic collection of mixers – inspired by a return to the essential in design and architecture, with an emphasis on quality materials and simple geometric shapes.
With a clean, continuous shape, Edge blends seamlessly to its design environment and gives a much-needed versatility. The line offers a range of mixers for the bath, shower and basin for every configuration and function, with varying heights and features. Environmental and economic benefits come from the use of five-litre-per-minute regulators, Click technology and hot water limiter, which minimise water consumption without impacting on the experience, it added.
The company also promoted Ipalyss, its unique range of vessels, featuring the latest innovation in ultra-thin ceramic material, Diamatec.
Completing its wide array of solutions, Ideal Standard also unveiled the IF & Red dot award-winner – Idealrain Evo, an impressive addition to the already successful Idealrain showers.
Ideal Standard International is a privately owned company headquartered in Belgium, operating in more than 60 countries across Europe, Middle East and Africa. Ideal Standard Mena, a sister company of Ideal Standard International, focuses on the Middle East, Egypt and Africa, with its head offices in Dubai, UAE.
Ideal Standard designs, manufactures and supplies ceramic sanitary ware products, bathroom mixers, furniture and accessories, bathing and showering solutions for residential, commercial and institutional buildings. Ideal Standard is the company's international flagship brand for bathroom solutions across all regions. The company also owns leading European brands: Armitage Shanks, Porcher, Jado and Vidima.
More Stories