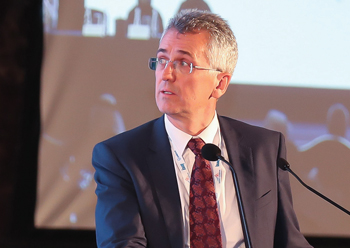 Sustainability gains momentum
Saint-Gobain is spearheading sustainable construction by creating Multi-Comfort buildings, which demonstrate how a high level of energy efficiency can be combined with a high level of comfort.
December 2018
There will be an acceleration in the move towards sustainable buildings as countries worldwide focus on stemming their environment impact and arresting climate change.
In these efforts, product transparency will be a key milestone towards more sustainable buildings, Pascal Eveillard, deputy vice-president, sustainable development – director for sustainable construction at France-based Saint-Gobain Group, told delegates at the International Conference for Sustainable Materials in Dubai, UAE, last month.
The conference, hosted by the Dubai Municipality and Dubai Central Laboratory (DCL), was held at the Conrad Dubai Hotel. Speaking to OSCAR WENDEL on the sidelines of the conference, Eveillard said the market now expects manufacturers to provide transparency on the environmental and health impacts of their products as there is a trend towards decarbonisation, circular economy, and health and well-being in the building sector.
While these demands are currently "almost a daily expectation of customers" in places such as the Nordic countries – where people have better quality materials in their houses – the trend is global and the demand will soon be seen everywhere.
This drive is compelling manufacturers to get rid of harmful volatile organic compounds (VOCs) in their products.
Saint-Gobain conducted a survey in 2017 in 25 countries among its customers – including designers, architects, contractors, installers, and distributors – to find out what was important to them when selecting construction products and materials.
"We have been quite impressed with the answers. More than 75 per cent expect more transparency on the environmental and health impacts of construction products. And more than 75 per cent expect us to develop solutions contributing to the comfort and greener buildings," Eveillard remarks. "So there is a real expectation of the market to deliver better and more sustainable products. The key challenge is to make those solutions accessible to a vast majority of players in the market and to make them affordable. The challenge now is not to demonstrate the availability of a solution; it is to change the mindset of designers and contractors to have them switch to better solutions – and move to a new way of designing and building."
Saint-Gobain, Eveillard says, gives high priority to the safety of people.
"So we are committed to getting rid, as far as possible, of any harmful substances in the product that we put on the market. This is something we have introduced in our product stewardship policy. Whenever possible, we substitute hazardous chemicals with safe ones," he said.
To demonstrate to the region the leadership role it is playing in this field, Saint-Gobain is building a Multi-Comfort House in Masdar, Abu Dhabi, which is scheduled to open in 2020.
"Multi-Comfort is a Saint-Gobain concept to demonstrate what sustainability means," Eveillard explains. "These are buildings that combine a high level of comfort and sustainability. We are addressing four types of comfort: indoor air quality, thermal, acoustical and visual.
"And on top of that, we have set a level of requirements regarding energy efficiency, the circulatory of products and water consumption. This concept has been already developed through 30 projects in different countries in the world, mainly in North America, in Europe and Asia and we are very happy to develop our first Multi-Comfort building in Masdar City to be inaugurated at the beginning of 2020."
Eveillard points out this will be the first building of this kind in a desert climate zone, which will enable Saint-Gobain to tailor its concept to the region.
"We will demonstrate that even in such a hot climate it is possible to have a high level of energy efficiency and to deliver a high level of comfort.
"Multi-Comfort is also a way for us to demonstrate all the innovations we have developed over the last years and the benefits they can bring to our customers. In this building in Masdar, we will showcase most of our latest innovations, starting with electrodynamic glasses and high-performance ceiling products," he adds.
Starting with this initial project, Saint-Gobain intends to capitalise on the feedback it receives from customers to improve its concept for any subsequent Multi-Comfort buildings.
When Saint-Gobain builds a Multi-Comfort building, it tries to benchmark with the most recognised labelling scheme in the country. At Masdar, it is seeking at least a LEED (Leadership in Energy and Environmental Design) Gold certification.
"It is crucial for us to let our customers understand that Multi-Comfort is aimed at achieving a very high level of performance. And by showing what corresponds to in existing and the well-known labelling schemes, we offer customers the capacity to benchmark our Multi-Comfort project," he states.
Saint-Gobain is also committed to deliver verified Environmental Product Declarations (EPDs) for its products.
"We have strongly advocated for EPDs to be recognised in most of the labelling schemes and we were delighted to see LEED recognising EPD as a mandatory requirement in its new version. We also encourage our competitors to engage on this road, look to promote EPDs through trade associations so that they are better understood by the different industries and convince all stakeholders to move in that direction. It will be a clear signal to the market that lifecycle assessments are key and central to the design and construction of buildings. And if all manufacturers will provide such information, it will also lead to a decrease in the cost of producing such information," he remarks.
Eveillard stresses that if the industry takes environmental impact seriously, it must rely on lifecycle assessments (LCAs) and the related EPDs that communicate the results of LCAs.
"LCA is a robust methodology to calculate the environmental impact of product systems but also buildings over their entire lifecycle. This is based on robust international standards and on science. And it should be a unique opportunity to eliminate guesstimates and greenwashing and move to fact-based design and benchmarking of solutions and buildings.
"When it comes to LCAs at a building level, it requires some maturity in the market. You need to ensure that you have valuable EPDs for the products. If you don't have product EPDs, it's difficult to calculate LCAs at the building level," he points out.
Eveillard sees an increasing number of countries developing EPDs for products and there are already some, like France, the Netherlands, and Finland that have made it EPDS mandatory. He also cautions that when sustainability gains further momentum manufacturers would make unsubstantiated claims about their products.
"When it comes to environmental claims, it is essential that those claims are backed by LCA results. In some countries, such as France or in Scandinavia, you can't make environmental claims if you don't have an EPD," he says.
To help designers and contractors reduce the environmental impact of the products they use, LCAs and EPDs provide the necessary information to select materials, work on alternative design options and to compare those alternatives. "To properly use the EPD and LCA results, it's essential to using validated tools. There are more and more of those tools for calculation. And these digital tools are made more and more accessible and not very expensive. They are easy to use, easy to access, and are more and more often connected to digital databases that contain the LCA information," Eveillard explains.
When linked to the building information modelling (BIM) data of the building, these tools provide all information about the products that are required to be used, the quantities, and from that and using the LCA results, a first estimate of the environmental impact can be made, he says. They can also be used when looking for alternatives, for instance, when replacing massive partition walls with lightweight solutions made of gypsum board and metal frames, to see the impact on the lifecycle of the building.
Looking ahead at 2019, Eveillard says: "We see an acceleration in the move towards more sustainable buildings following COP 21 (The 2015 United Nations Climate Change Conference, COP 21 held in Paris, France). Decarbonisation has become a priority topic almost everywhere. Circularity is also becoming a priority. People are more and more concerned about the scarcity of materials, which makes them very aware of the need to go for a more efficient way of using natural resources.
"So, I think that in more and more countries, people are realising that it's time for a change. But this doesn't mean that solutions are obvious to people," he adds.
To address this issue, Saint-Gobain is creating greater awareness worldwide through presentations, trying to showcase possible alternative design and construction methods "and to explain to people that yes, there are issues, but there are also solutions, accessible solutions – that are not necessarily more expensive than traditional solutions," he concludes.
More Stories