Saudi Focus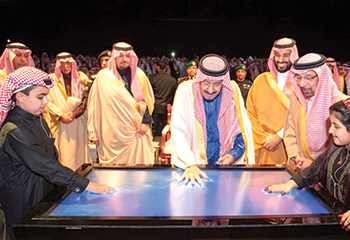 $23bn Waad Al Shamaal mining city inaugurated
December 2018
Saudi Arabia's King Salman last month inaugurated Phase One of Waad Al Shamaal and laid the foundation stone for the second phase of the SR85-billion ($23 billion) mega city for mining industries which will come up over a sprawling 440-sq-km area in the country's northern region.
The project is part of an industrial scheme aimed at opening up Saudi Arabia's north to development that will boost job creation, said Al Arabiya TV citing the Energy Minister Khalid Al Falih.
The project is being developed in two phases with Phase One worth SR55 billion and the second phase valued at SR30 billion, according to Saudi Gazette.
In the past two months, the king has visited a number of major cities, announcing projects and initiatives to develop the kingdom in line with Vision 2030, a broad strategic plan to diversify the country's economy and end its dependence on oil revenues.
King Salman last month unveiled projects worth over SR10.5 billion at Arar in the Northern Border Region as part of his multi city-tour of Saudi Arabia.He had also inaugurated 242 development projects worth SR10 billion in the northern Al Jouf province, in the presence of Crown Prince Mohammed bin Salman, Interior Minister Prince Abdul Aziz bin Saud bin Naif, Cultural Minister Prince Badr bin Abdullah bin Mohammed bin Farhan and Al Jouf Governor Prince Badr bin Sultan bin Abdul Aziz, said the Saudi Press Agency (SPA). A total of 21 projects will be implemented by the Ministry of Health, 77 covering the key sectors of energy, industrial and mining sectors besides water and agriculture, it stated.
King Salman later inaugurated several development projects including 20 road projects worth SR628 million in the region. The work involved addition of lanes to other roads, and construction of secondary roads and junctions on existing roads, it added.
More Stories