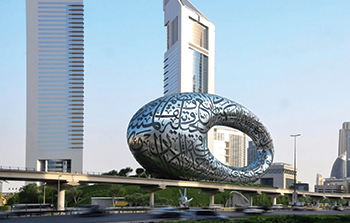 Museum of the Future structurally complete
December 2018
Dubai Future Foundation (DFF) has announced the completion of the structure for the Museum of the Future, which aims to be an icon of the future of science and innovation and a top global destination for the launch of new technologies.
Mohammed Abdullah Al Gergawi, Minister of Cabinet Affairs and the Future and vice chairman of the board of trustees and managing director of DFF, said: "The museum will provide visitors the opportunity to experience the future now. It will be the destination for scientists, experts, innovators, and creative minds, from all over the world, to design and shape the future."
Al Gergawi stated that the Museum of the Future, set to open its doors in 2020, embodies one of the pillars of the vision of Sheikh Mohammed bin Rashid Al Maktoum, Vice President and Prime Minister of the UAE and Ruler of Dubai.
The Museum of the Future further aims to strengthen Dubai's position in the coming few years as a global hub for future and emerging technologies, and supports the execution of the emirate's strategic plans and initiatives. It also aims to attract the best minds and talents as well as technologies that in return will provide an integrated experience for shaping the future.
The Museum of the Future, located near Emirates Towers on Sheikh Zayed Road, is set to be an architectural masterpiece that will enhance Dubai's urban landscape and become a destination for tourists, visitors and residents to learn about future technologies that will become a part of all aspects of life.
It will be one of the most advanced buildings in the world and will feature a unique design with Arabic calligraphy inscribed onto the exterior. The museum will act as an incubator for ideas and a stimulating environment for enhancing innovation and inspiring inventors, innovators and pioneers, from the UAE and abroad.
More Stories