News in brief
December 2018
Arabtec net profit more than doubles in Q3
Arabtec Holding has registered a net profit attributable to the parent of Dh181 million ($49.2 million) for the third quarter, growing more than twofold from last year's figures of Dh75 million ($20.4 million).
Announcing the results for the first nine months ending September 30, Arabtec Holding says its revenue for the period grew higher, by 12.7 per cent, from Dh6.3 billion to hit Dh7.15 billion.
A leading Dubai-based contractor for social and economic infrastructure, Arabtec says its Q3 debtor days got reduced by a further two days to 166 days contributing to a positive net cash from operating activities of Dh193 million. The group's backlog increased to Dh16.4 billion, reflecting its increasing focus on social and economic infrastructure and industrial sectors. The backlog is supported by a strong Dh45.8 billion pipeline of identified opportunities within Arabtec's addressable market, says the top builder.
Moving towards 2019, Arabtec continues to simplify the business through standardised processes and enabling tools and the removal of duplicated functions and activities through shared services and outsourcing. It also continues to review non-core assets which are not considered key to the business for divestment or development.
Moelis & Co have recently been appointed to advise and assist Arabtec with debt financial modelling, structuring options and engagement with finance providers.
On the solid performance, Group CEO Hamish Tyrwhitt says: "I am pleased to report another positive quarter of results. Debtors days are continuing to decrease. This has contributed to a further improvement in cash from operations and an Dh146 million reduction in net debt. Strengthening the balance sheet remains a strategic priority going into 2019.
Contractor named for Pantheon Elysee at JVC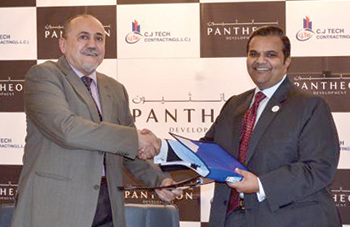 Officials shake hands on the deal.
UAE-based Pantheon Group says one of its units, Pantheon Development, has signed up CJ Tech Contracting for the construction of its landmark luxury residential project, Pantheon Elysee, in Dubai.
The Dh180-million ($49 million) development, which is located in Jumeirah Village Circle (JVC), will feature 268 residential units as well as commercial units. It is expected to be delivered in October 2020, ahead of the World Expo Dubai.
This is Pantheon Group's second project in the affordable luxury segment in Dubai. Earlier it had launched the Dh150-million ($41 million) Pantheon Boulevard, a 162-unit residential project at the District 13 of JVC in Dubai.
CJ Tec Contracting is part of CJ Group Companies which comprises Ciji Building Metallic Industries, Ardour Technical International and Ciji Building Metallic Construction. It has over a decade of experience in construction industry in UAE UAE and India offering complete solutions for building and infrastructural projects.
Farnek wins key Dubai, Abu Dhabi FM contracts
UAE-based Farnek has secured facilities management (FM) contracts worth over Dh115 million ($31.3 million) from across Dubai and Abu Dhabi during the third quarter, including key facilities such as Dubai Airports, the Burj Khalifa, Oracle, Kings College, Dark Matter, Musanada and the Ministry of Community Development.
One of the leading FM companies and sustainability consultancies in the region, Farnek says the contracts involve managing a full suite of hard and soft FM services including, mechanical, electrical and plumbing (MEP), security services, cleaning, landscaping, pest control and waste management.
A total of over 500 staff have been mobilised as part of the contracts, it states.
Farnek's newly signed contracts include the retention of the three-year Burj Khalifa contract to provide MEP and specialist sub-contractor services such as fire-fighting.
It has also been successful in renewing its cleaning contract with Oracle to service its 100,000 sqft state-of-the-art Media City-based commercial buildings.
Within the UAE's expanding aviation sector, Farnek has renewed a two-year contract with Dubai Airports to continue to provide over 200 members of staff for soft FM services in Terminal 2.
In the medical sector, Kings College has roped in Farnek to provide MEP and cleaning services to three of their centres in Dubai and Abu Dhabi.
The Ministry of Community Development has contracted Farnek for cleaning services across the UAE in 39 locations.
In Abu Dhabi, cyber security firm DarkMatter has appointed Farnek for hard and soft FM services for the company's office in Aldar HQ.
Finally, Farnek will add MEP, hard services and specialised systems to its existing Musanada portfolio in Abu Dhabi. For the first time Farnek will be responsible for providing MEP services to sports clubs, recreational facilities and horse racing events.
More Stories