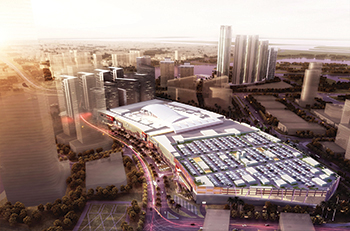 Drake & Scull wins mall contract
January 2019
Drake & Scull International says it has won a Dh600-million ($163 million) subcontract to provide mechanical, electrical and plumbing (MEP) services for the Reem Mall, a 2.8-million-sq-ft lifestyle, retail and entertainment destination, located in Abu Dhabi's prestigious Reem Island.
The project is being developed by Al Farwaniya Property Developments, a partnership between Agility, its affiliate United Projects for Aviation Services Company (UPAC), and the National Real Estate Company (NREC).
Itinera-Ghantoot JV, a joint venture between Itinera, one of Italy's largest construction companies, and Ghantoot, is the lead contractor of the project.
Reem Mall will host around 450 stores, featuring 85 food and beverage outlets and family-friendly entertainment attractions, including Snow Park Abu Dhabi by Majid Al Futtaim.
Meanwhile, the company has announced that both its chairman Abdullah Atatreh and its chief executive Yousef Al Mulla have resigned from their posts following a recent board meeting.
Atatreh, who was appointed as chairman in September 2017, has been replaced by independent board member Obaid Bin Touq, the company says.
A new independent board member, Abdullah Al Matrooshi, has been inducted into the company's board in place of Atatreh, it states.
Al Mulla, who had taken over as the CEO only in August 2018, too has resigned. Until a replacement has been appointed, the management of the company will be carried under the supervision of the board of directors, it adds.
More Stories