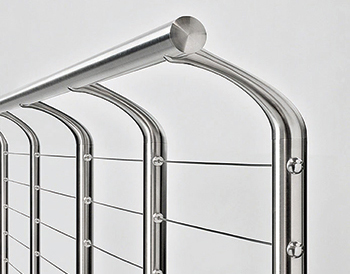 UBM adds Q-railing to portfolio
Saudi-based UBM has expanded its range with the addition of premium balustrades from a leading German manufacturer.
January 2019
In keeping with its tradition of sourcing the best products and materials for the construction industry from around the world, Universal Building Materials Merchants Company (UBM) of Saudi Arabia continues to enhance its offering of door hardware, hollow metal fire-rated doors and frames, fire-rated wooden doors, mechanical and architectural products for the kingdom's construction market.
The leading building materials specialist has now boosted its portfolio of architectural line with the addition of products from Q-railing of Germany.
"Q-railing systems are renowned for their flexibility," says a spokesman for UBM. "Thanks to their modular design, clients can mix and match components according to their design needs, creating truly unique balustrades."
Q-railing is the Number One for premium balustrades that combine sophisticated design, unbeatable quality, rapid assembly and excellent safety, he adds. It offers a wide range of certified glass balustrades, baluster railings, handrails, glass adapters and glass clamps, as well as many other innovative solutions for top-quality balustrades.
UBM, a member of the Saudi-based Al Rashed Group of Companies, has branches throughout Saudi Arabia with its head office in Riyadh and regional offices in Al Khobar in the Eastern Province and Jeddah in the Western Province. The company has a wide sales network in the kingdom through which it distributes world-class products from well-known brands including Zurn, Wilkins, Nibco, Hunter Douglas, Q Railing, Wilson Taylor, Bailey, SHW, Universal Levers & Locks, Mandelli, Rocky Mountain, Baldwin, Raven and Spark, all of which are considered leaders in their respective fields.
UBM can offer a total solution for any project, from wooden, steel and security doors, door hardware and access solutions to speciality plumbing products. It is a single-source, technically and professionally qualified solutions provider able to cater to virtually any requirement for doors and door hardware, the spokesman says. The company can supply doors in a variety of configurations, tested according to American Standards (UL) and British Standards (BS), suitable for various locations, which also comply with green building regulations.
"In today's changing environment, buildings and facilities need the highest levels of security and safety available provided by aesthetic and functional solutions that are highly durable and user-friendly, while also meeting stringent international standards," the spokesman says.
UBM also offers a selection of metal, wood and acoustical ceilings from Hunter Douglas, a leading manufacturer of architectural products, as well as its popular roller and Venetian blinds in the window coverings range, and Terracotta and Quadraclad façades and sun control systems in the architectural category. Headquartered in the Netherlands, and with a management office in Switzerland, the group comprises 125 companies with 50 manufacturing facilities, 75 assembly operations and marketing organisations in more than 100 countries. It employs about 16,500 people.
UBM works closely with designers and architects to fulfil their architectural aspirations and has partnered with some of the world's leading manufacturers to introduce the widest choice of the products available under one roof in Saudi Arabia. It also has a dedicated team of door hardware schedulers who are qualified to draw up the requirements in door hardware according to various ANSI/BHMA, NFPA, SDI (Steel Door Institute), EN and DIN standards. The company's Specification and Design Centre in Riyadh is considered to be the go-to venue for consultants and clients seeking to gain hands-on experience with various products in the field of door hardware and mechanical products.
"UBM has contributed to most of the major projects in the kingdom by being a total solutions provider to the construction industry, right from engineering design to delivery of products and related services. The company's leading position in the building materials market segment is due to the fact that it pools quality products from renowned manufacturers, ensures stock availability, employs highly-trained product specialists and executives and offers excellent after-sales support service," the spokesman says.
UBM can support customers in the region in specifying the appropriate hardware for projects to ensure a quieter environment that fits the building's needs and budget. Its team is well-versed in local and national building codes and can help specify customised solutions that are both aesthetically and functionally appropriate.
More Stories