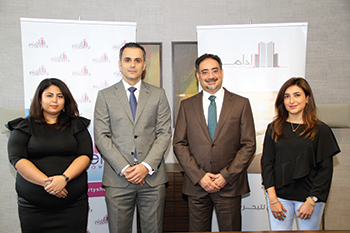 Edamah makes grand Gulf Property Show debut
February 2019
Bahrain Real Estate Investment Company (Edamah) is making its debut at Gulf Property Show 2019 in style as the strategic sponsor of the boutique showcase for the real estate and property development sectors in the Northern Gulf region.
A premium real estate industry event, Gulf Property Show 2019 will be held under the patronage of HRH Prince Khalifa bin Salman Al Khalifa, Prime Minister of the Kingdom of Bahrain from April 23 to 25 at the Bahrain International Exhibition Centre, said the event organiser Hilal Conferences and Exhibitions (HCE).
Edamah, the real estate arm of the country's sovereign wealth fund (Mumtalakat), said it has implemented a strategy in line with Bahrain's Economic Vision 2030 to enhance the national economy through developments that serve locals and are investments to attract investors and tourists to the kingdom.
On its debut at the show, CEO Amin Al Arrayed said: "Edamah's vision and mission is to promote our portfolio of real estate assets in line with our founding principles of quality, efficiency and sustainability. Our debut at Bahrain's leading property event provides the opportunity for investors and citizens to see the diverse and dynamic contribution of Edamah to the real estate landscape of the kingdom."
Al Arrayed pointed out that Edamah will be showcasing a selection of its main projects such as the recently-completed The Terminal building in Adliya, the Sa'ada public waterfront project in Muharraq, Salmaniya Hospital car-park, and the Bilaj Al Jazayer public beach.
"The Bilaj Al Jazayer beach development is an exciting venture for Bahrain as an island tourist destination. The beach development will offer high-quality public beaches with pedestrian walkways and a leisure outlet for retail and F&B (food and beverage)," he stated.
The Sa'ada project has been designed to be a fully accessible public waterfront development with shaded terraces enhanced by convenient parking, he added. Several of the buildings will be leased to house a variety of outlets for food and beverage, kiosks, open event spaces and a multi-storey car-park that will be linked by a pedestrian bridge to the Muharraq Suq.
Welcoming Edamah's participation, HCE managing director Jubran Abdulrahman said: "We are honoured to have Edamah's debut at Gulf Property Show as strategic sponsors. Their projects are a statement of the company's dedication to serving the Bahrain community and contributing to the kingdom's growing popularity as the tourist and investment destination in the GCC."
Meanwhile, Manara Developments, a leading developer of premium projects in Bahrain, has reaffirmed its strategic sponsorship for the annual Gulf Property Show.
Dr Hasan Al Bastaki, the managing director of Manara Developments, said: "Gulf Property Show is established as one of the GCC's major real estate events. To have such a popular event in Bahrain is the best showcase for us to participate in."
"Our projects are designed to serve the needs of Bahrainis and the local community. Our reputation in Bahrain has been built upon delivering real estate projects of a high standard that creates a sustainable environment for the community that lives in them. Gulf Property Show will continue to be our preferred showcase in Bahrain to present our core values," he stated.
Some of the Manara Developments' key projects that have debuted at Gulf Property Show over the years include Hasabi, Wadi Al Riffa, Investment Gateway Bahrain and Kenaz Al Bahrain.
"Manara Developments' properties bring to life the core of a Bahraini community and social values through their projects," remarked Abdulrahman. "We are humbled that a company of Manara's standing continues to place its trust in the Gulf Property Show as a valuable showcase for investors and developers for the real estate sector in Bahrain and the region," he added.
The Gulf Property Show also carries with it the strategic organisational support of the Real Estate Regulatory Authority of Bahrain (Rera), Survey and Land Regulatory Bureau (SLRB) Urban Planning and Development Authority of Bahrain, and Bahrain Property Developers Association (BaPDA).
More Stories